From mortas to buko pie coffees, this restaurant enlivens local food culture with modern makeovers of classic recipes 
Culture is embedded in the day-to-day, from the first cup of coffee we have in the morning to the movie we put on at night to wind down after a long day. It's the customs we partake in, the values we uphold, the habits we grow into. At Abli and Amigos, it's the champorado in their coffee, the welcome proffered to community artists, and the sweet reinvention of a neighborhood baker's confectionery.
The up-and-comer gourmet Cebuano restaurant is at the center of a culinary movement that spotlights local culture through a new style of cuisine. Moving through the food scene in Cebu with a name that means "open and friends," Abli and Amigos invites diners to lifestyle passions under a community with a shared heritage.
"Our goal is to inspire a sense of pride in our local community and culture."
"We believe that our cuisine and coffee reflect our cultural identity and we want to share this with our Amigos," says Alyssa Dayot, one of the restaurant's three co-founders. "Our goal is to inspire a sense of pride in our local community and culture."
Inspiration was in the air in the middle of 2022, just after the tumultuous national elections, when head chef and co-founder Karen Abello was struck with a compelling desire to "contribute something meaningful to the community," as she puts it. She called up Dayot, fueled by a personal frustration with the lack of innovative culinary offerings based on local cuisine, which the latter describes as the driving force behind Abli and Amigos' conception. Soon fellow co-founder Eugene Labella was on board. The rest, as they say, is history.
From when it was first just selling coffee fusions centered on distinctly Cebuano flavors such as refreshing buko juice and rich tablea on Instagram, Abli has been carefully crafting a menu anchored on Cebuano tradition and culture. It's a process full of familiarity, especially for anyone who grew up in Cebu or has immersed in the culture, and it begins with an ideation stage motivated by emotions and inspired by memories.
But coming up with ideas is the easy part, they say. "Inspiration is all around, especially with local ingredients that are familiar and comforting." It's recreating and perfecting the recipes that pose many of the restaurant's hurdles. "One challenge we face," Abello opens up, "is convincing people that it's okay to deviate from traditional Cebuano recipes and offer something new and innovative."
"Inspiration is all around, especially with local ingredients that are familiar and comforting."
Abli and Amigos opened its doors with a soft opening that has been underway since March, introducing classic dishes in a fresh, effusive light. Across its growing bill of fare, the Ukoy-Ukay is its gourmet spin on the shrimp fritter street snack okoy and Abello's personal favorite (the dish also references street thrift shops aka 'ukay-ukay'). The Humbaboy refashions the famous humba into sous vide pork belly, paired with a garlic-infused egg yolk, apple puree, and of course, they couldn't leave out the traditional humba sauce.
By merging tradition and innovation, beginning with the creation of its beloved Morta (short for "mura'g torta" or "like a torta"), guests at Abli find something special that can't be found elsewhere. 
Aside from the Morta, which is Abli's famed specialty and twist on the Argao torta delicacy, guests love Ginabot sa Abli, the restaurant's recreation of the street side dining staple, as a pampagana or appetizer. Its Lechon Kawalo is a hit among its entrées or pampabusog and is pork belly confit that has been slow-roasted for eight hours and served with salted egg mash.
Abli's bar menu is also stocked with handcrafted cocktails and features the crowd-favorite pampahubog (literally "for getting drunk") Chilimansi. Regulars and guests who have known the restaurant since it was still just an online cafe know it best for its Champorado cold brew and its signature Buko Pie coffee, not to mention its popular Kape sa gi ubo ("coffee for those with a cough"), a coffee mocktail drink infused with ginger and calamansi in a nod to the traditional cough remedies. 
The nostalgia sparked by a menu filled with effusions of memories captures locals and ties them together with Abli's vision of marrying old with new. "We aim to evolve and create new memories for our guests through the unique experience of our food," says Dayot.
This goal of evolution through a heritage revival in an industry that readily embraces food cultures and cuisine outside the region singles Abli out as a player aspiring to creativity in a field that can often be about creating something entirely different. What is unique to Cebu is transformed into something unique to Abli and Amigos.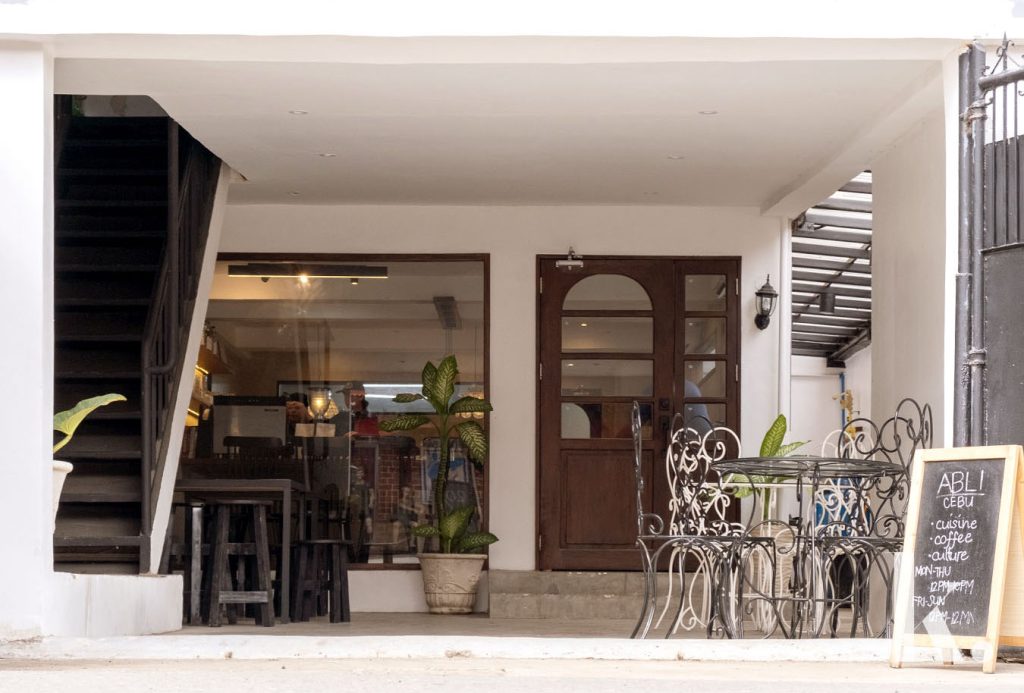 Abli and Amigos, above all, is a heritage culinary brand that engages with its community through experiments with new recipes and events, workshops, and degustations that enable guests to learn about the food and drink they enjoy and simultaneously discover local art.
With its gourmet reimaginings, coffee steeped in culture, and partnerships with homegrown brands like roastery Current Coffee and local creatives like artist Andre Chan and musician-producer ONEFLOOR, the budding restaurant is carving out a space for rich and diverse cultural connection, making it, in Dayot's words, "more than just a place to eat or drink, but a community where people can connect and appreciate each other's talents and interests." At Abli and Amigos, the future is teeming with even more possibilities in cuisine, coffee, and most especially, culture.
Photography Kyrra Kho