(From left to right) Christian Ray Villanueva, artist and founder; Celine Lagundi, writer-in-residence; Chanel Pepino, artist-in-residence; Victoria Tanquerido, artist-in-residence; and Ezra Weigel, photographer-in-residence
An art class. A group therapy session. A community gathering. An art foundation. Drawing Class can be anything anyone wants it to be.
Everything
In the early 1990s, artists Tracey Emin and Sarah Lucas established "The Shop", a place that sold different handmade thingamajigs, controversial and conversational knick-knacks that were all memorable art pieces. The space attracted regulars from all over London, turning The Shop into a place of gathering, with different kinds of people coming together to create, learn, and connect. Appropriately, Frieze magazine calls The Shop "a social, living entity, which doubled as a studio, where anyone could drop by."
Emin and Lucas' innovative art space is one of the Drawing Class Foundation's biggest inspirations, according to artist and founder Christian Ray Villanueva. 
Founded in 2022, Drawing Class is an initiative that aims to teach basic drawing to enthusiasts in Cebu City, free of charge. Focused on mindfulness, meditation, and individual creative processes, sessions of Drawing Class are closer to art therapy than actual academic classes. Each class runs for about three hours, including lectures and different drawing exercises. The attendees, who range from experienced artists, art students, and regular art enthusiasts, are encouraged to share insights about their drawings. Since October 2022, there have been six regular classes in total.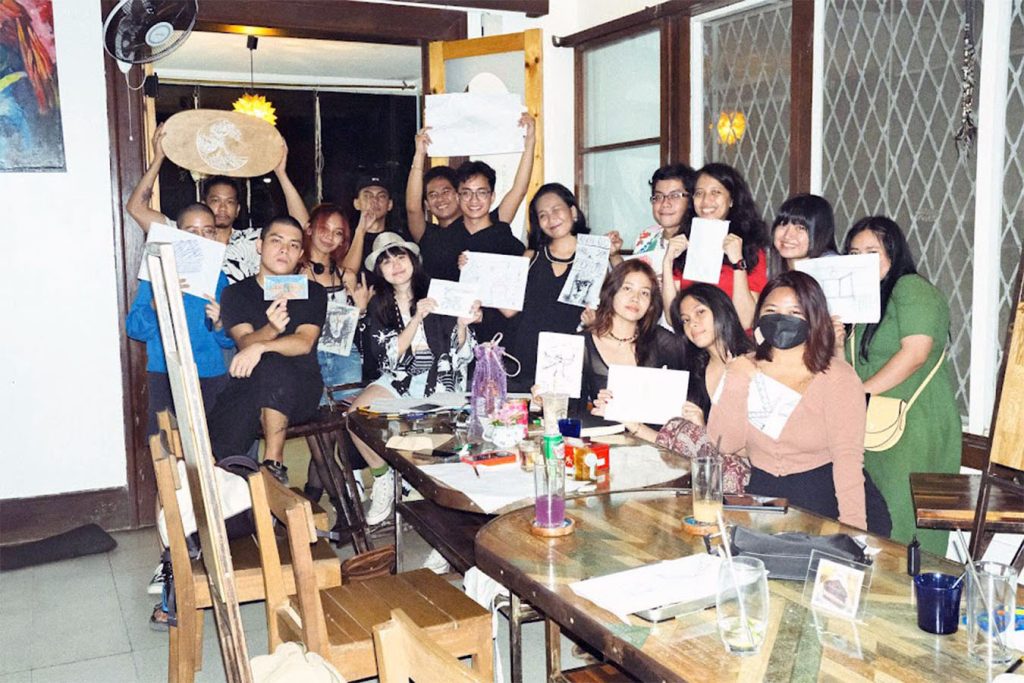 As a queer and disabled person, Christian's strongest resolve was that Drawing Class should be inclusive, accessible, and non-intimidating. 
"Being an artist is already something outside of society. But I felt another level of isolation because of my sexuality and my disability." Christian also alludes to the divisive nature of the art community, mainly due to the factors that affect each individual artist: social class, financial background, and gender identity. These factors branch out, creating the ecosystem of the art industry— determining who makes art, who decides what art is, who decides what kind of art is sellable, and who decides the price of art. This seemingly arbitrary system then creates boundaries for artists and the themes of art they create.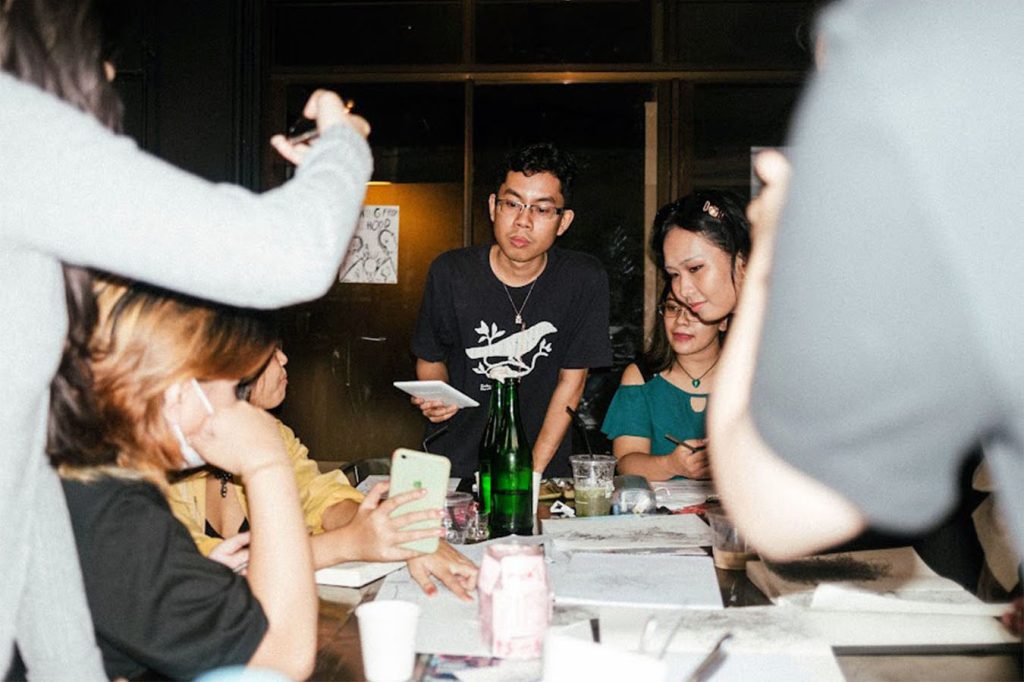 The themes within Christian's art are most explicit and extremely personal: from growing up gay, surviving cancer and abuse, and intimate escapades. The limits of commercial and academic spaces sometimes hinder art created within these topics. In Drawing Class, students are free to draw whatever they want based on the lecture and the exercise, and during sharing, they can be as open or reserved as they want. Topics that would rarely be discussed in a school setting, such as sex, addiction, and abuse, are candidly talked about in Drawing Class.
"Typical art spaces can be intimidating because they put a level of pressure on people. I wanted something warm and inviting through the metaphor of art, free of prejudice. You don't have to be a certain way to go to our classes. You come as your true authentic self, open to experience," Christian explains.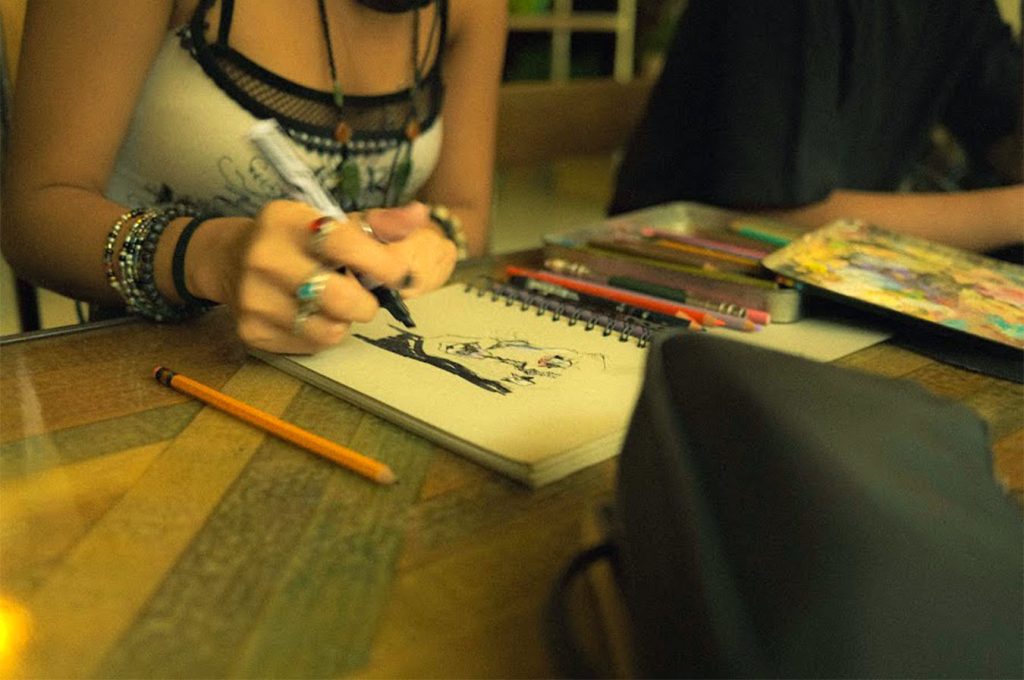 Authenticity is one of the foundational principles of Drawing Class. The openness introduced by the class permits people to come as they are, say what they think, and do as they please, with care and consciousness for the community that the class has built. 
A common sentiment among the attendees was that the class renewed their love for art and drawing.  "When I joined the class, it was the first time I picked a brush up since grade school," one of the attendees said. "So it was a fulfilling feeling, like healing my inner child." 
"It makes making art less intimidating and less overwhelming," another said, while someone else remarked that the class "gave them a sense of belongingness after years of being left out."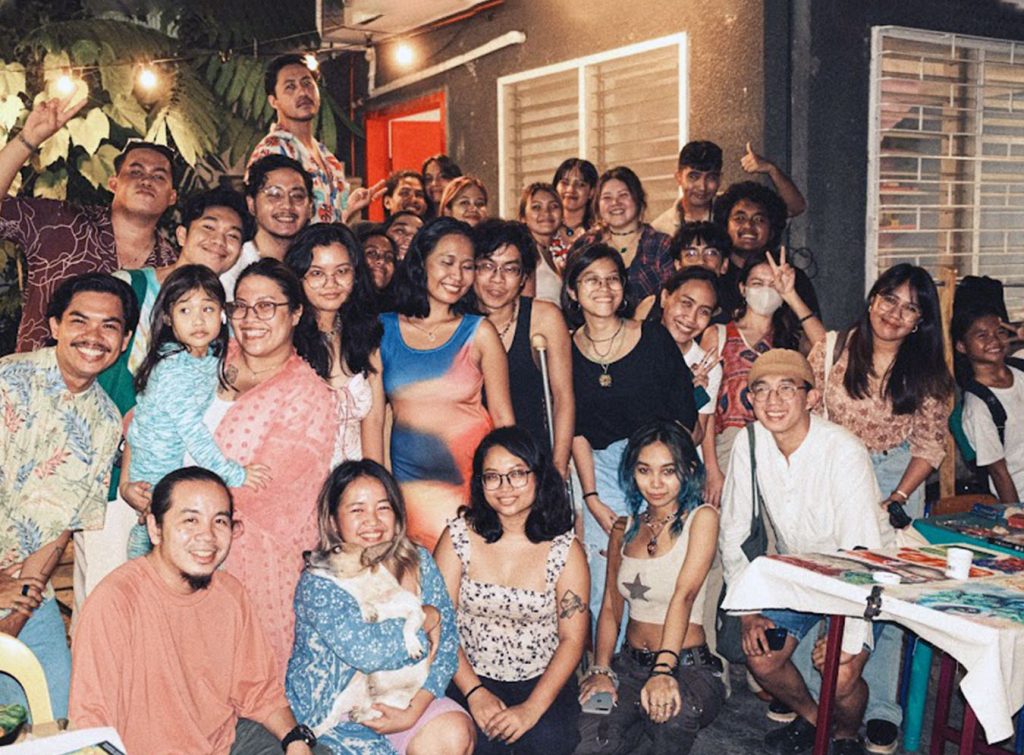 Everywhere
As opposed to Emin and Lucas' "The Shop" which had a permanent address, the Drawing Class is a "nomadic art school." The first drawing class session was held at Balai by Cafe Plus in Banilad, while the next several ones were at Ayo Ayo Cafe and Sauna. The latest class was held at AHKA Sari-Sari Space last March.
"I don't really mind that we don't have a permanent space, I like that we travel around," Christian says. Before holding classes at a venue, the team makes sure that the space is accessible, especially for people with disabilities, and that there is enough space to accommodate the attendees, which can range from 10-30 people at a time. To steer away from the traditional academic or commercial setting, the places chosen were ones that had a more open and homey feel, highlighting the importance of inclusivity and freedom that the class aims to purvey.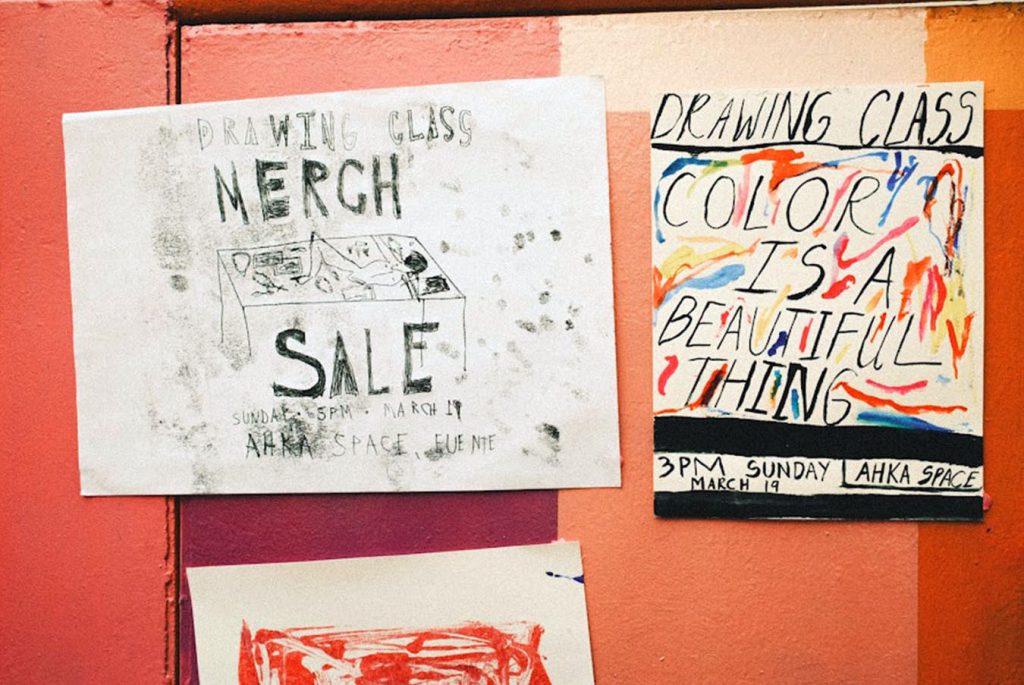 "The idea of ephemera, nomadic existence, and immateriality has always fascinated me and I think it is the future of art. I don't like to think of art as a form of physical attachment that lasts forever, and is stuck in some museum or some rich person's house."
From its conception, Drawing Class highlighted the importance of being run by women, queer, and disabled people. 
One of the first things Christian and I agreed on was that we had a mutual distaste for the phrase "safe space". The Oxford Dictionary defines "safe space" as "a place or environment in which a person or category of people can feel confident that they will not be exposed to discrimination, criticism, harassment or any other emotional or physical harm."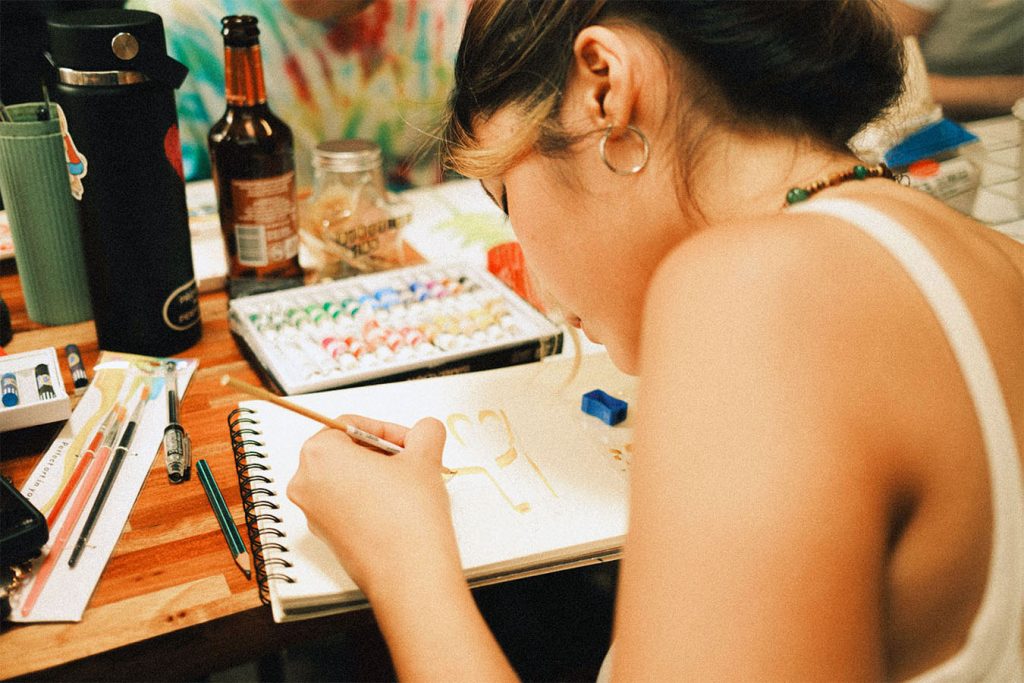 However, Drawing Class recognizes the fact that some safe spaces are illusions, especially for the women and queer. Branding spaces as simply "safe" is reductive and can be harmful, especially when little to no effort is done to dispel forms of harassment, discrimination, or abuse. 
"We don't want to brand Drawing Class as merely a safe space," Christian says. "The term had a funny feeling when I thought about it more. I discussed it a few times with people in our community, with some saying that safe spaces are tricky because they are kind of like a ''NO SMOKING" sign. Even if you put that sign up, people are still gonna smoke. My favorite insight was from one attendee who said that we should cultivate and work on building toward an ideal space, instead of giving out false, empty promises. I personally know communities that uphold this term, and have done it very well."
While Drawing Class understands that this is still a complicated matter and necessary context is needed to develop truly safe and secure spaces, especially for people on the margins, it also relentlessly pours its efforts into cultivating a sense of belongingness within its community and cracking down on any form of violence and abuse.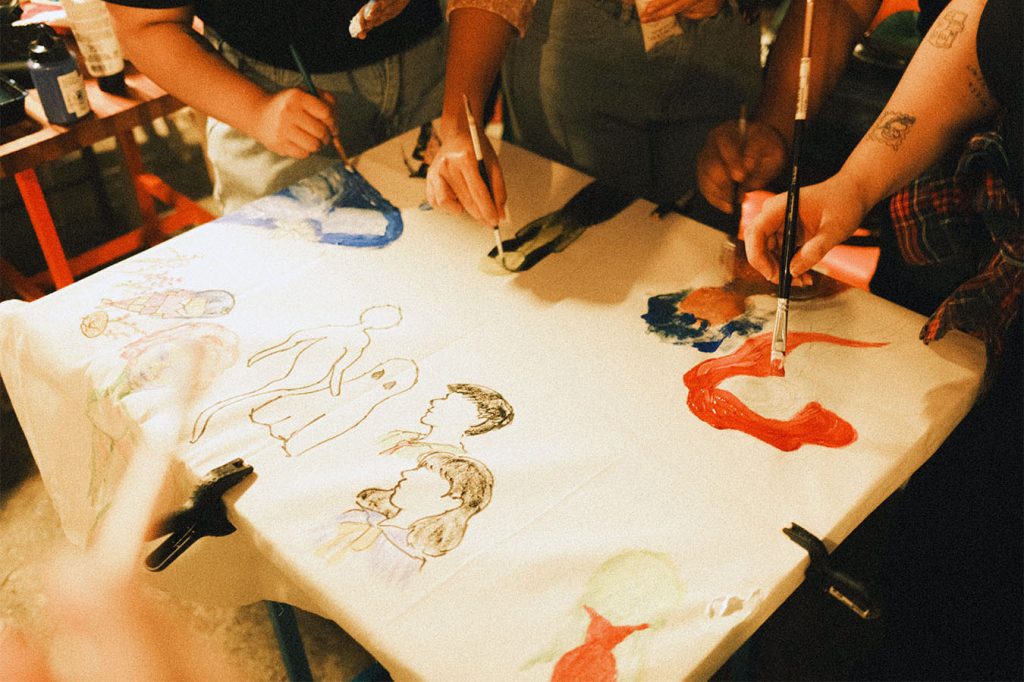 All At Once
An art class. A group therapy session. A community gathering. An art foundation. "Drawing Class can be anything anyone wants it to be," Christian tells me. Drawing Class is also an artist residency, where like-minded artists, photographers, and writers can explore and expand their skills. 
At its core, Drawing Class aims to democratize the study of art by turning it into a more communal practice instead of individual gains. In the last Drawing Class, some attendees even donated paint and coloring materials that will be used in the next classes. Because the classes are held for free, Drawing Class relies on donations by its patrons to continue. This is reminiscent of the "community pantries" that popped all over the Philippines at the height of the pandemic: a food and supplies bank that lets people "give what they can, and take what they need."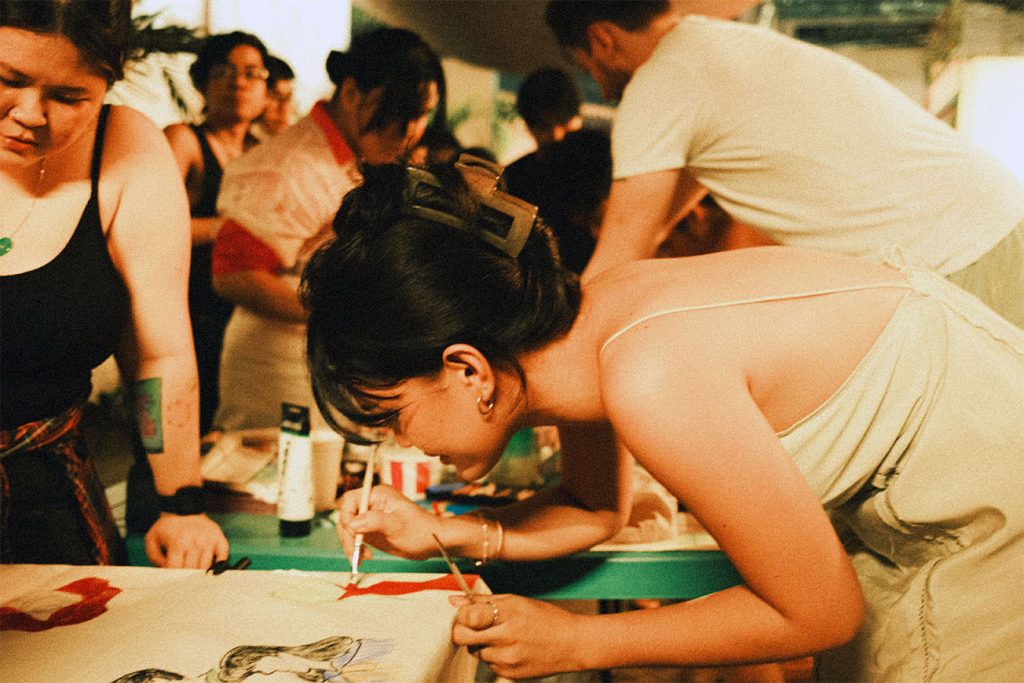 "There is more to art than the physical object and monetary value. A great example would be from our good friend and artist Aldrich Maligsa, who won the Joya Awards in 2015 for showing his dirty underwear. The piece was eventually destroyed after by some anonymous people out of anger and spite." Christian recalls.
"But even if I didn't see that piece with my own eyes, the piece still intrigued me as I laughed and smiled hearing about it. His dirty briefs still infuriate people today and it is even discussed in my university classes. I wish people realize that they have the potential to make art out of anything, no matter who they are. I love art so much and it's my future."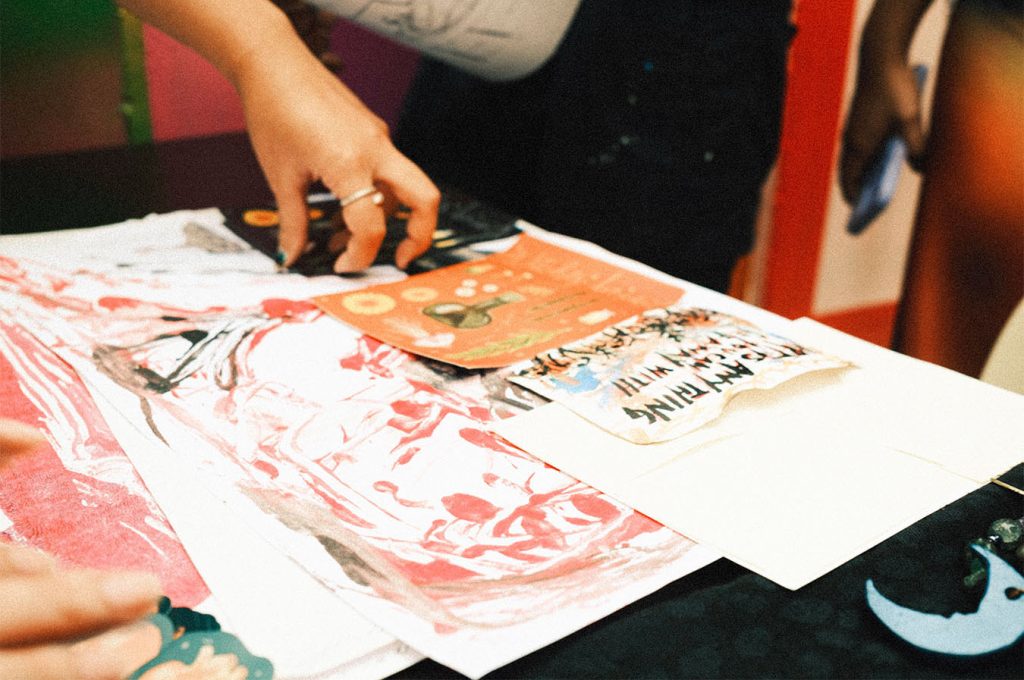 "The thing that made us so happy about Drawing Class is that people would come here not just to learn art, but to seek out a community, and I think that's enough. I'm content with people just coming here to make friends." Christian says. "I can drop the art all together and we can just talk about our feelings all day. I would drop my own pretenses of being an artist if it means reaching out to someone to form a genuine connection. Art was my crutch for the loneliness I felt after being disabled. At the end of the day, we just need to lift each other up in whatever way we can."
The next Drawing Class will be held in May 2023. Follow Drawing Class on the Instagram page (@drawingclassfoundation) for updates on future classes and events. For more adjacent discussions and stories, subscribe to the Drawing Class Newsletter on Substack (drawingclassfoundation.substack.com). For inquiries, partnerships, and donations, email at drawingclassfoundation@gmail.com. 
Photography Ezra Weigel