Architect, content creator and entrepreneur Kathrynn Dawn Sy knows the ropes when it comes to a home office. Although now her Atelier de Aurora Design Solutions has found more permanent headquarters, like most of us, she and her team had to revert to the work-from-home setup during the start of the pandemic.
While some of us are slowly working back at our respective office cubicles, almost hugging it after being away for too long, some are still doing their eight-hour shift at home. As comfortable as it may be, it can often be uninspiring. It's different for everyone, but for Dawn, a personal space is about evoking that perfect balance between fun and functional, keeping the dullness at bay. "For me, [personal workspace] is something that is filled with all the things that spark joy. It's clean, organized where everything you need is accessible, something that works to your personal function, while filled with personal touches that add value and inspiration to your life."
We sat down with her as she shared her tips to make a personal workspace beneficial and motivating to get the work done—whether it's at your office cubicle or your work-from-home station.
Declutter
"Imagine a blank canvas. That's how you want your workspace to be like—ready for your thoughts for that day." For Dawn, it's important to always reassess what's on your desk. Her non-negotiables include tables and chairs that are big and comfortable enough for her to do her work, as well as the necessary tools to make her life easier.
Sort out your items, figure out your non-negotiables, and take note which ones you're keeping or ditching. Ask yourself if these are part of your workplace because it serves a purpose, or they're there purely for sentimental reasons. If all else fails, start with the basics and work your way up; something that doesn't just apply to fashion, but also to home or office organization. More importantly, less is more. "The tidier your space, the clearer your desk, the more peaceful your life," she added.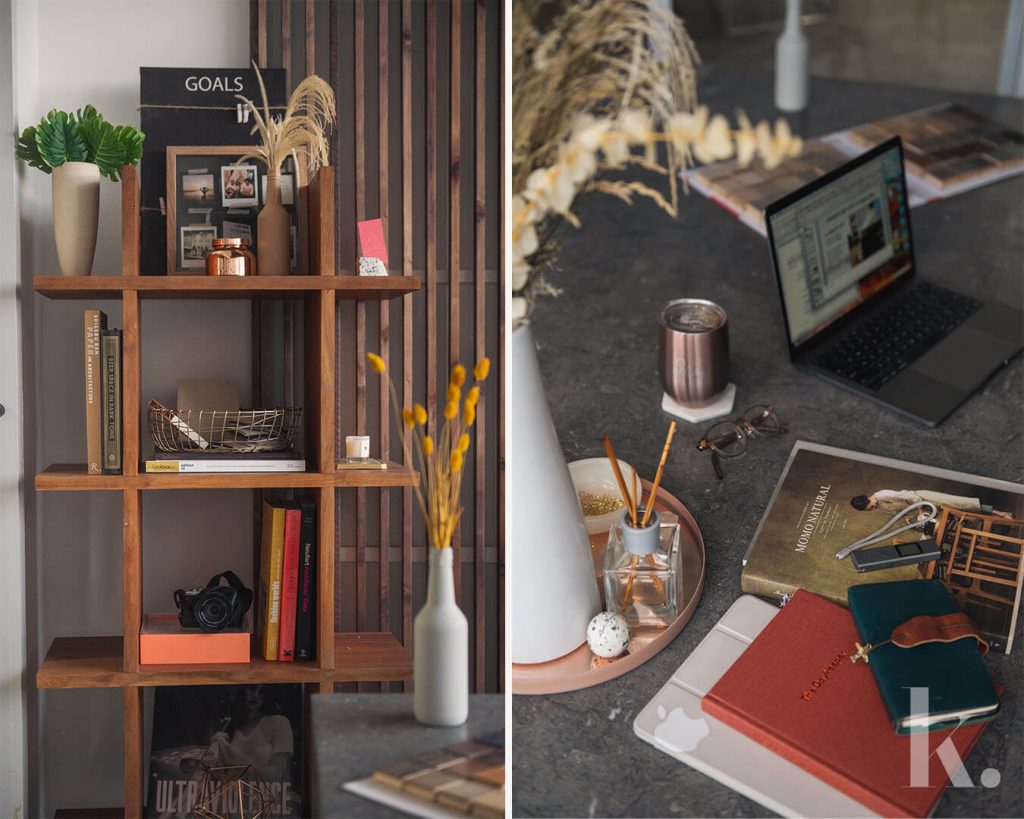 Sort and Arrange
It's all about functionality and accessibility. Dawn is big on zoning things according to how she uses them. With her reading materials placed on one side, all things that inspire her on the left, and writing tools tucked safely in her drawer, she knows which part of her workspace to go for whenever she needs something.
"The closer everything is around you, the more efficiently you are able to carry out your activities for the day," said Dawn, adding the importance of shelving—and choosing between open and closed shelving. Picking what type of shelving you should go for depends on whether you prefer to see where everything is, or if you just want to hurl everything in the drawer, concealing the mess. In all seriousness, the art of shelving doesn't just exist to make your work space pretty, but to also make it neat and organized according to their function.
Save Space
Not everyone is living in a space where they can make huge renovations. Sometimes you just have to make do and find ways to work around the space given to you. More than anything, prioritize space especially if you'll be spending most of your day at your desk, located pretty near to where you sleep. As Kathrynn pointed out, space is luxury. "Use design elements that make your space look big, like reflective surfaces, mirrors or glass. Place these in strategic locations and opt for pieces that have thin legs and thin frames so they don't look very bulky."
It also helps looking into multi-purpose smart furniture or space saving storage solutions. One helpful storage solution is a laptop, a tool Dawn recalled she used successfully as her entire office for a good four years before she opened her studio.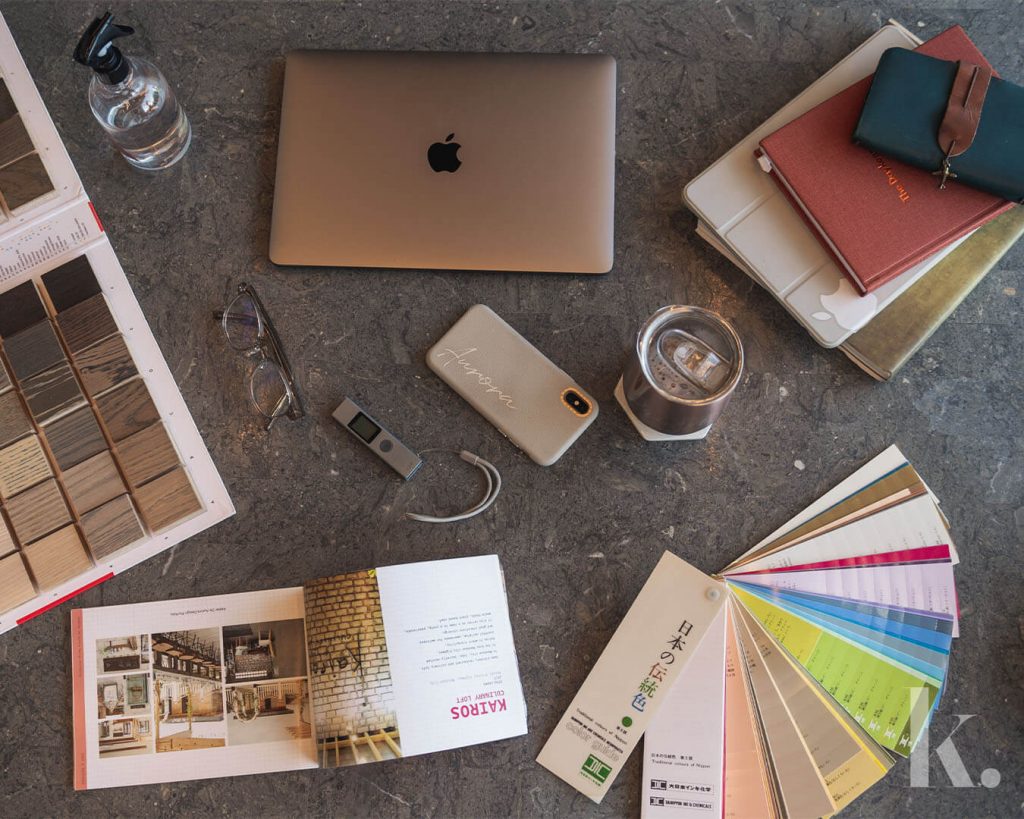 Light It Up
Sometimes we take the benefits of lighting for granted. When you think about it, it doesn't just affect our mood but also our productivity. For natural lighting, Dawn suggested placing your desk close to a window where you not only get sufficient natural lighting, you'll get to enjoy a good view as opposed to staring at a wall, or your bed which can be very tempting. There's also artificial lighting if sunlight is out of the question. Choose between general lighting, focal lighting or task lighting like the ever trusty desk lamp. "Lighting allows us to focus more, increasing our concentration, and allows us to feel more awake and alert," she said.
Make It Personal
A workspace must be functional but it shouldn't be boring. There's nothing wrong with adding some personal touches to your work-from-home station as long as they don't outnumber the ones you'll need for the daily grind, and that they serve as inspiration for you to get moving. "Allow your desk to be filled with things that spark joy, personal touches that reflect your personality." For Dawn, it's dried flowers, photos of her favorite people and her travels, her camera and her vinyl records—things that make her heart beat. It helps since her work revolves around design and beauty in all forms.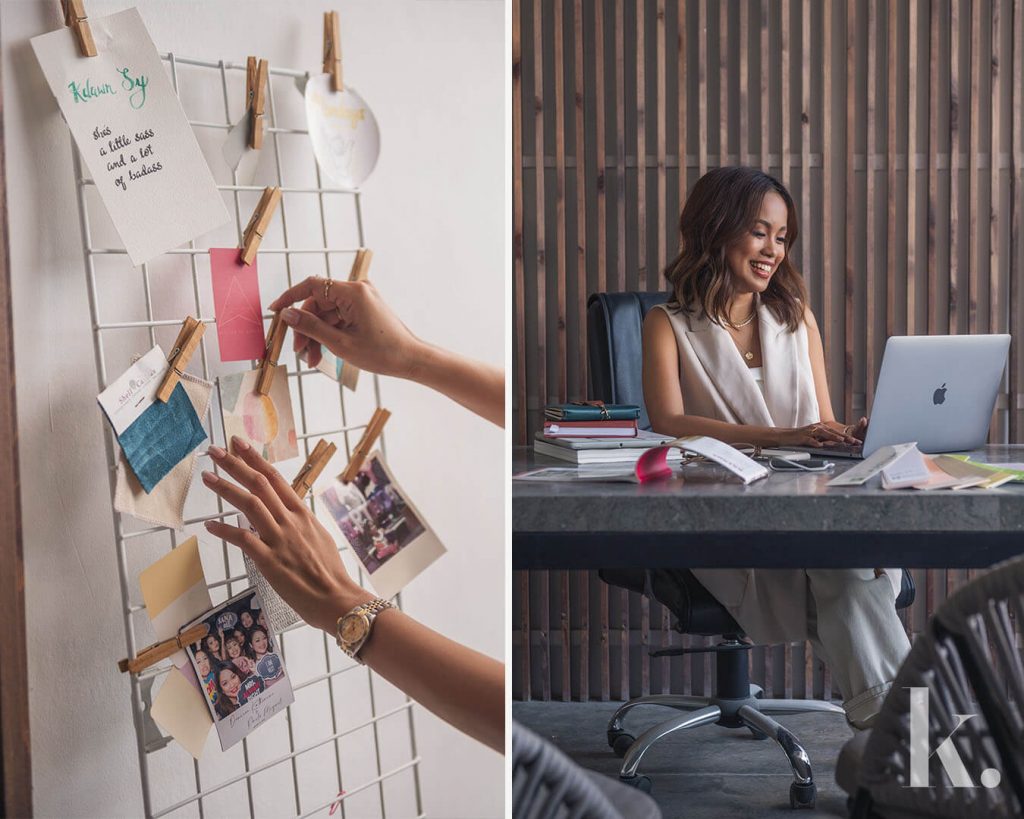 Indulge Your Senses
Your desk shouldn't just be a pleasant sight; it must also awaken your other senses. "As an architect, several things go through my mind as I'm typing, emailing or making a phone call, so I always need to have a good set of pens and papers, and whatnot beside me," Dawn shares. "Of course to make it more fun and to jazz it up, I always need to have aromatherapy on my desk, be it a scented candle, diffuser or essential oils."
Organizing and styling your workspace gets you inspired and excited to work and work at a desk curated specifically to your liking. Whatever scent you've chosen, playlist you've prepared, as long as it keeps you motivated, then you're all set.
Be Mindful and Learn the Art of Maintenance
When things get too hectic, sometimes we end up placing things in furniture they're not meant to be in; like how a chair suddenly becomes an extra closet. A desk, if neglected, can end up like that. Before you finish up for the day, always make sure to put everything back in place.
"Treat your things with care and with respect," said Dawn. Also, don't hoard. "Let us consume responsibly. Let us take inventory of the things that we bought, the things that we need and the things that we hold dear. Always foster a sense of gratitude for the things that you own," she added, quoting organizing guru Marie Kondo: "One in, one out."
(It's important to be mindful about your state of mind as well. If work-from-home becomes a little too much to bear, here's how you can deal with burnout. -Ed.)
Photography Rocky Roska | Makeup Janice Barillo | Hair Shantal Davidson