Her latest collection, La Playa ('The Beach'), captures the striking resemblance of rare gemstones to the country's resplendent tropical views
Traveling loves Hannah Davis, jeweler, gemologist, and goldsmith. With every destination, she gains not just a tick off her travel bucket list, but unique perspectives, fresh ideas, and inspirations that fuel a craftsman's drive. So when she discovered that her own country, one of her natural muses, fell short in specially handcrafted jewelry, her dismay was that of an admirer of its beauty and of an artist who felt it was not portrayed as it deserved to be.
"I love jewelry with colorful, unique gemstones and a bohemian flair."
The irony is the push that brought home Hannah Davis Jewelry, an avant-garde lifestyle brand of jewelry that harmonizes dignified medieval aesthetics and bold bohemian styles.
"I love jewelry with colorful, unique gemstones and a bohemian flair, but didn't find much of that in real gold, especially in the Philippines," says Davis, who founded Hannah Davis Jewelry just before the COVID-19 pandemic turned the world upside down. "A lot of the gold jewelry being sold here all looked the same and didn't seem very special or in my style."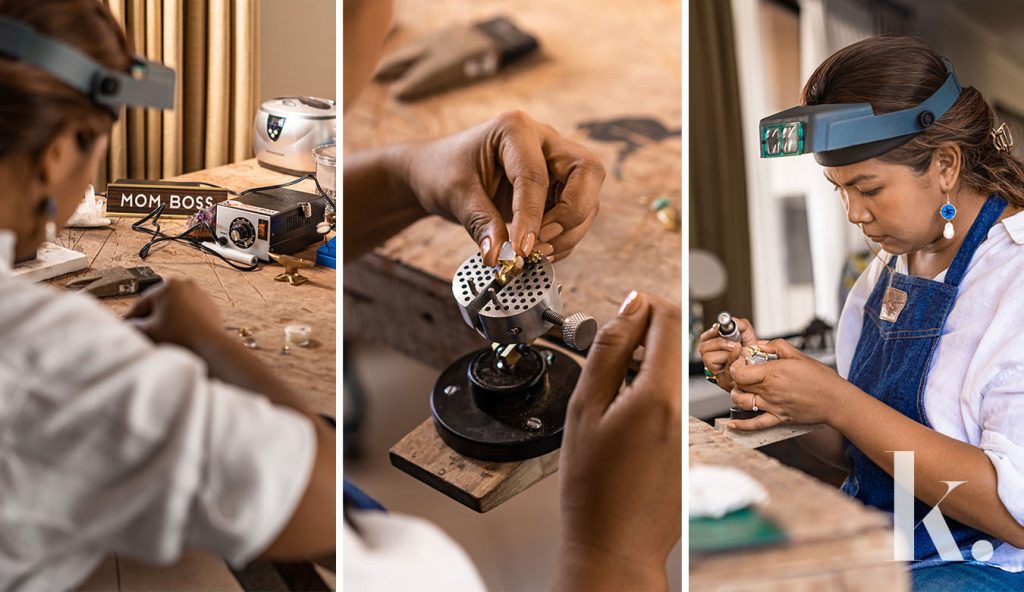 Nature has always been one of the oldest sources of inspiration for artists, from Monet and Van Gogh to Versace and Alexander McQueen, and Davis is no exception. The link between the beauty of gems and nature's beauty came to her naturally during trips around the world and became the chief stylistic principle behind the collections of Hannah Davis Jewelry. "Gemstones alone tell a story," Davis shares. "When I travel to different corners of the globe, I add regional flair into the pieces that I create as I am inspired by each destination and culture."
With a creative process energized by travels, it was only inevitable that Davis' collections each found their roots in different places across the globe. Hannah Davis Jewelry's debut collection, Reign, is the epitome of her love for rare, vibrant gemstones and penchant for bohemian styles, and was first conceived in lively, colorful Denmark, home to medieval palaces and picturesque towns. "When we travel, I am always drawing or painting and picking up on things that inspire me," Davis says. "That creative process is important to how my collections come together."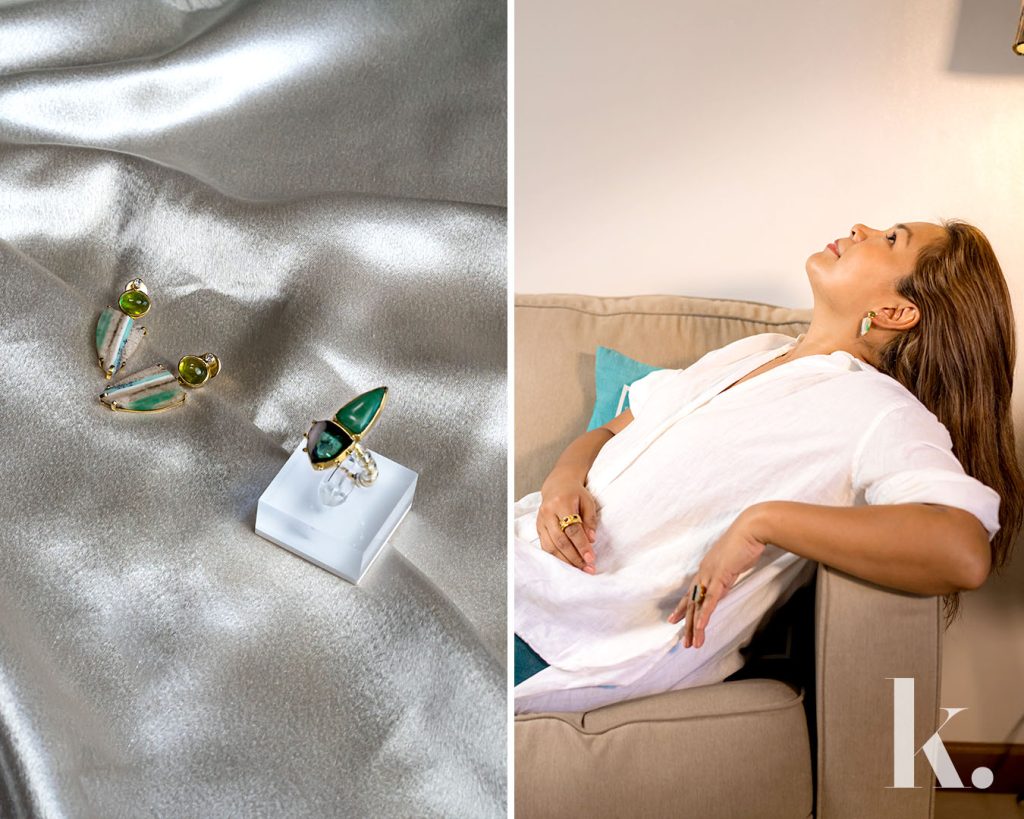 It started with the desire to make something with her own hands. From making jewelry out of Play-Doh as a child to leaving Cebu in 2010 to attend the Gemological Institute of America to pursuing not just jewelry making but also designing and manufacturing, and later on, even becoming a gemologist, Davis was intent on fulfilling all her visions as an artisan.
Flash forward to 2020, and she had begun to steadily carve a niche in the industry for a market that appreciated connections and stories behind its jewelry pieces with Hannah Davis Jewelry. For Davis, who started the brand by designing pieces she would wear herself, it was a valuable avenue for creativity and artistic self-expression.  
But as with any creative-slash-business pursuit, she needed to test the waters. "The pandemic gave me the time I needed to start but I also had to overcome my own mindset," Davis confesses. "I was so doubtful and fearful of the idea that others might not like my designs. But once I started being creative, my fears quickly diminished."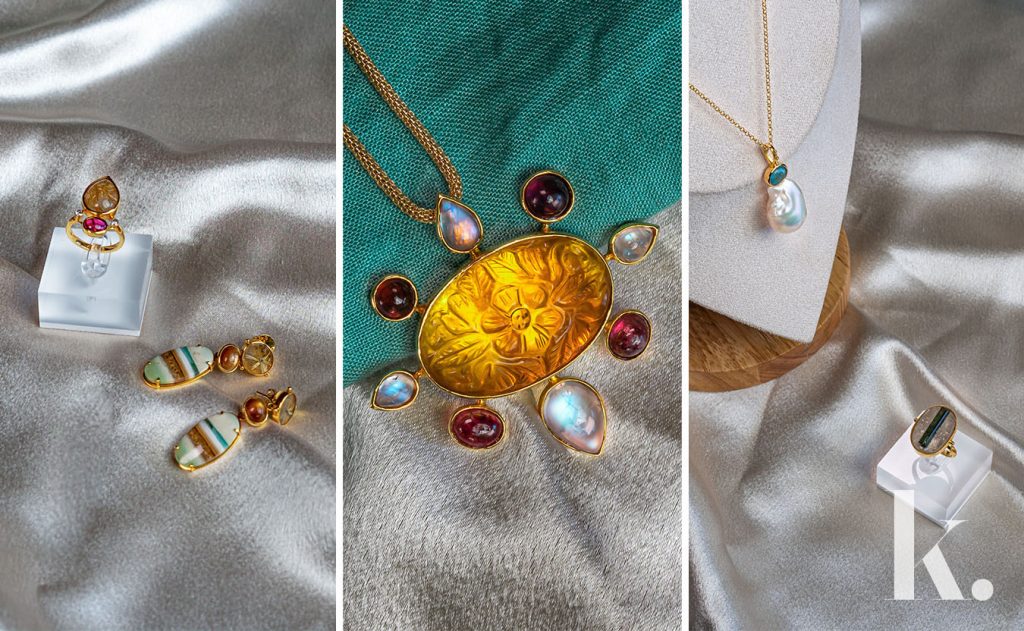 Earlier this year in March, Davis officially launched Hannah Davis Jewelry in the Philippines with her newest collection, La Playa, an ode to her hometown of Cebu. La Playa (meaning 'The Beach') is an embodiment of the Philippines' tropical beauty and features mesmerizing gemstones sourced from all over the world―think blue-green opalized wood, baroque pearls, moonstones, diamonds, and azurite geodes―in reference to its verdant islands and crystalline beaches while showcasing the free spirit and boho-chic sensibilities that the brand is now becoming known for.
"Gemstones alone tell a story. When I travel to different corners of the globe, I add regional flair into the pieces that I create as I am inspired by each destination and culture."
Every collection sets itself apart with pieces that are essentially wearable art, but besides abstract themes and stories, Davis places value in creating functional jewelry that can be worn in various ways and settings. "A lot of my pieces are also versatile," she points out. "Pendants are convertible to brooches. Earrings are convertible to studs or they can be mixed and matched with other charms, enabling the wearer to create their own combinations."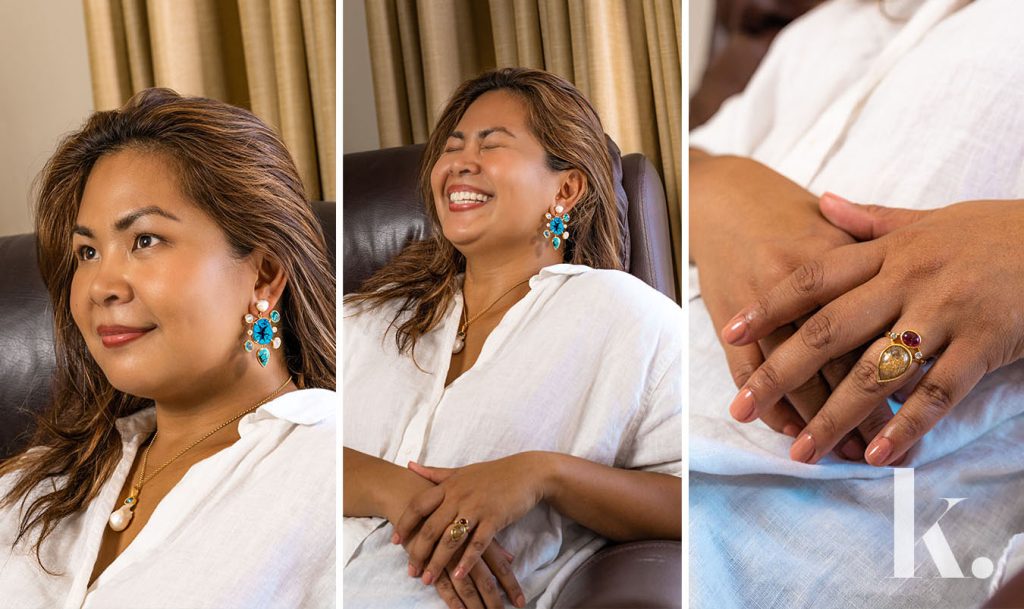 Versatility and artistic expression, functionality and personal nuance, all while catering to luxury needs―these are the mainstay values of Hannah Davis Jewelry and what makes its fashion offerings unique in a market rife with seasonal bandwagons and tired designs.
When asked about future collections and stories she wants to tell through her pieces, Davis wants to build on the connection between the wearer and the piece, and not just the one between her and her creations. "I want those who wear my jewelry to feel like they are part of the story."
Check out Hannah Davis Jewelry on their website www.hannahdavisjewelry.com and their Instagram page @hannahdavisjewelry.
Photography Ted Bermudez