I always say this, but I love art in public spaces.
Having done curatorial work and, as an artist myself – I have found that showcasing my art for public display has been very satisfying and fulfilling. Fairs, for example, are a great way to communicate with the greater public. It is not only a way for artists to have some kind of commercial standing per se, but more importantly, it offers something to the people, art that's more humanized and full of humility, away from the walls of a private gallery or a grand museum.
It shows that art can be very giving and gentle, in other words — we can walk through a fair without necessarily being bombarded by any deep pretense or meaning, unlike the suffocating walls of a gallery where it's juxtaposed to be in your face. At fairs, we can find something special through all the busyness and furor. Or, we might accidentally just drop by while going on with our day and discover something new and different. This is what art does, one of its functions is that it refreshes the mind and rejuvenates the soul. With the tumultuous times that we live in, we need art more than ever. The artist's touch can convey emotions and can awaken our spiritual essence as human beings.
Tubô Art Cebu Fair has given a variety of artists a platform to express themselves and have the opportunity to share their gifts not only with artists and enthusiasts alike but also with people who might be curious about local art in general.
Here is a selection of artists I have found to be interesting and wonderful.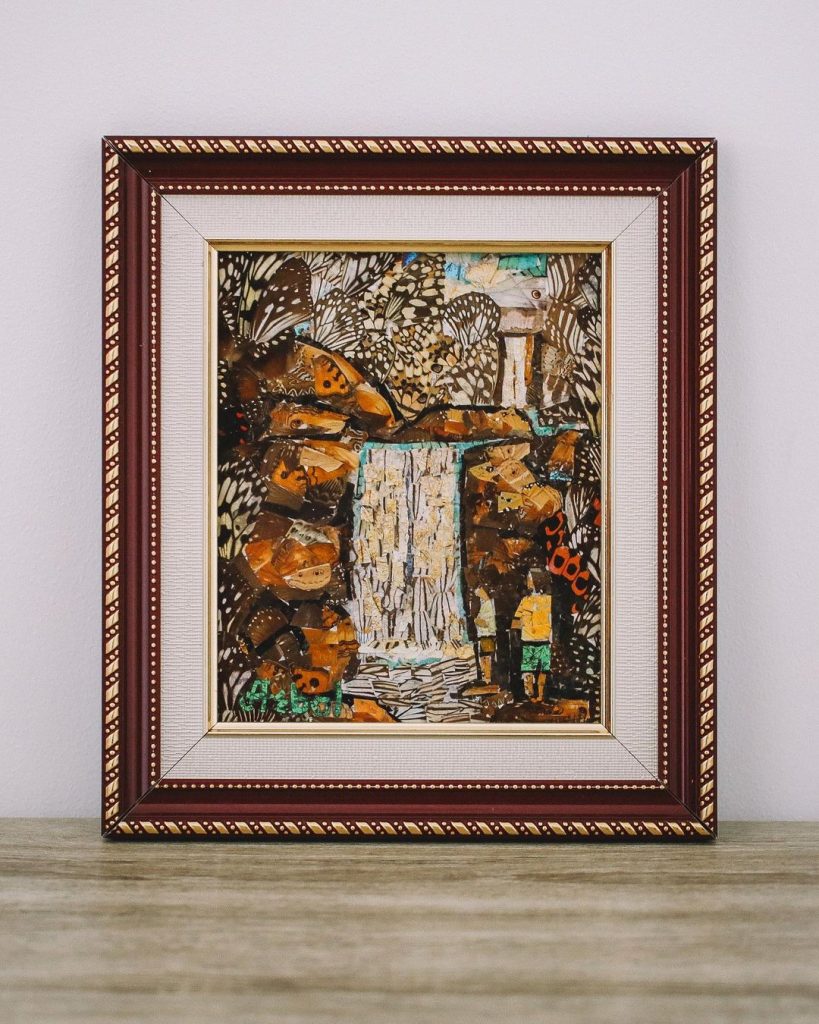 Victor Abellana's unique butterfly works
Victor Abellana's butterfly mosaics are one of a kind. I was quite surprised at first because from afar they reminded me of stained glass, the one I usually see in churches. When I looked up close they had a wonderful vivid quality to them, as the colors reached out into the deep corners of the frame. The colors were complimented by organic textures and exciting cracks, reminiscent of papier-mâché.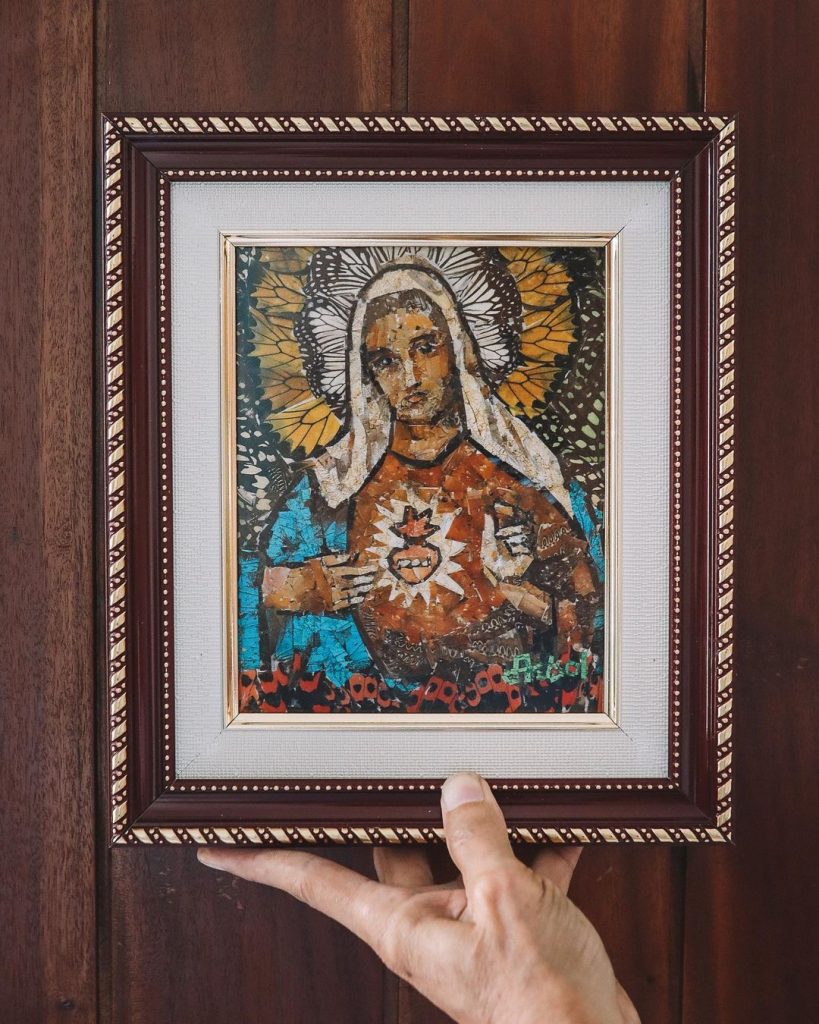 The process of procuring butterfly wings from already dead butterflies to create these masterworks of color, line, and shape seems a bit macabre at first but actually, it's a very ingenious way of creating art. Victor's subjects span from the fecundity of nature to more traditional compositions such as The Virgin Mary. I found his sustainable craftwork to be quite charming.
Studio Hue's young and upcoming artists
Studio Hue's booth features Belle Maurice, Dine Zachary, G.I Pongase, and Enric Callangan. I had worked a few times with Belle and Enric with an exhibition called "Vessels of Time" for Qube Gallery as their curator and as an artist alongside them. I had so much pleasure in getting to know them and their process so intimately.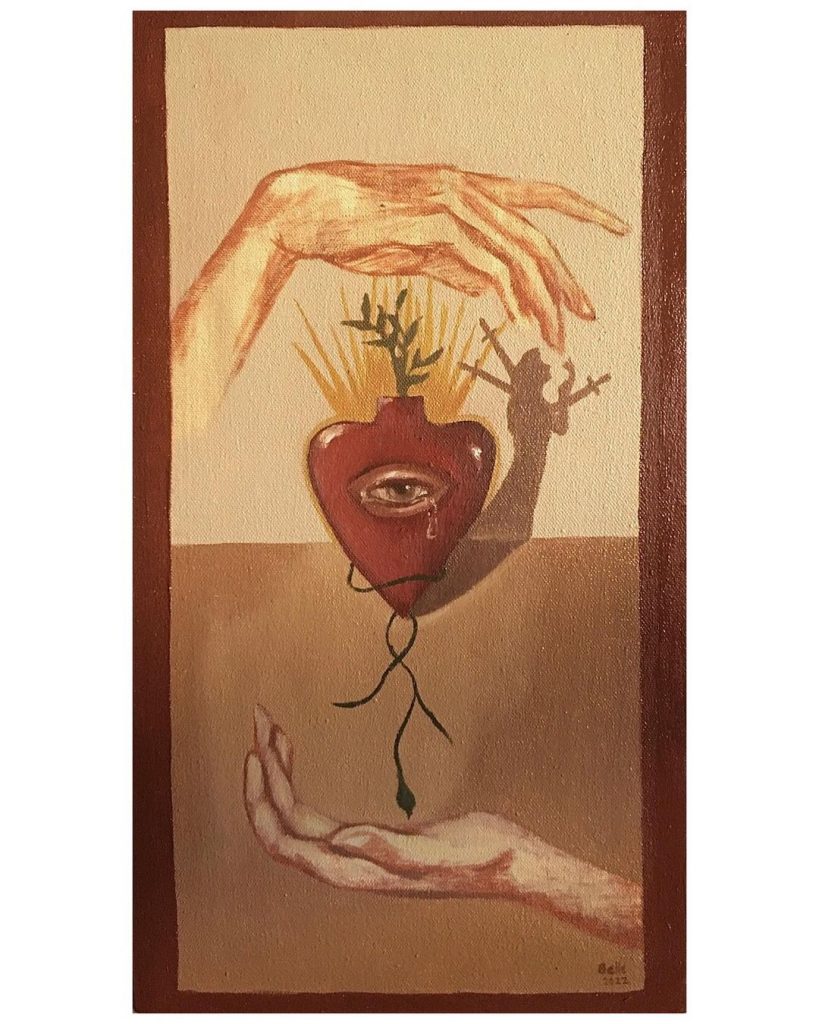 Both of them showed brand new paintings for this year's fair which was a real treat. Belle's piece, entitled "Three of Swords" was inspired by the pain of heartbreak. Belle explores the full scope of emotions through her art. With her talent for figuration and sensitivity, she sublimates her feelings onto oil and canvas. I love this piece because of the medieval aspects in it.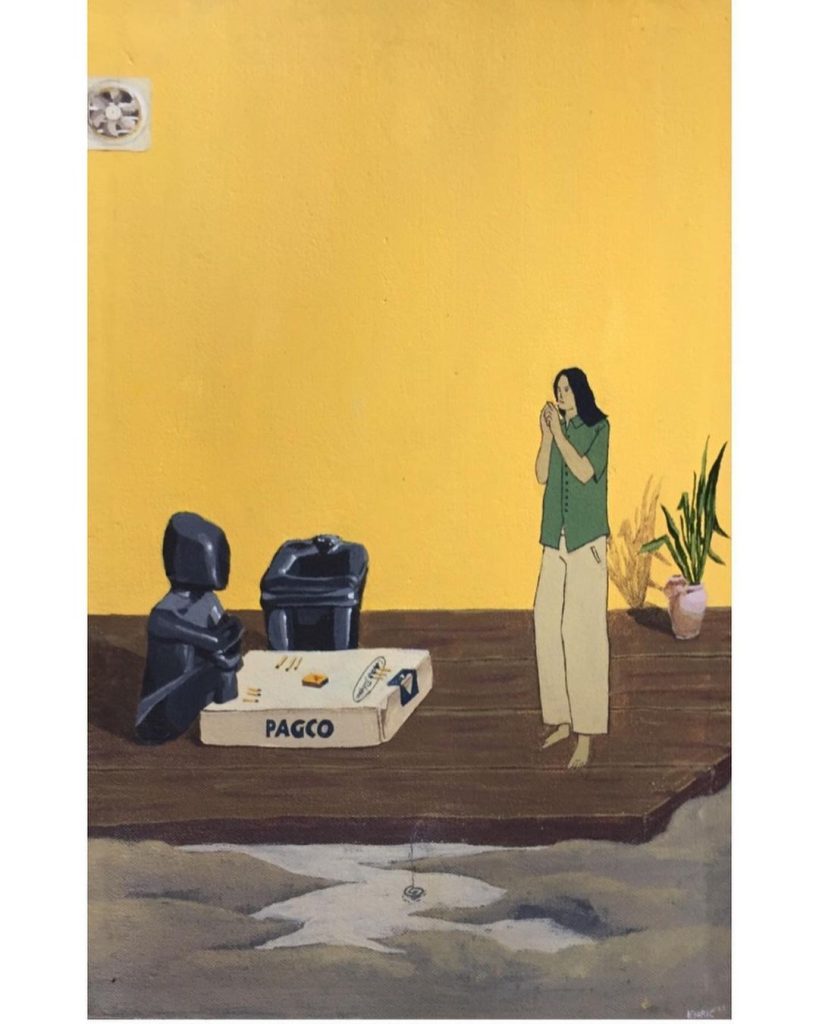 Meanwhile, Enric's work "Yellow Game" is an intriguing piece. I'm drawn to this painting because I'm so confused about what's happening. It tells a story inside a dreamland, symbols waiting to be decoded. I can see Mark Rothko in the background as the colors are paneled concretely, yet they are static in some way. The composition is very pleasing to my eye, too.
I got to catch up with Dine Zachary on the last day and it was the first time we formally met. Her structures stand out from the others as they are made from kalsomine, premix resin, and wire. She learned this method from her father who works at a fabric company. She explains that they are "entropic structures", as in the way thermal energy functions. Some onlookers said it reminded them of stalactites and stalagmites, like the ones you can see inside a grotto.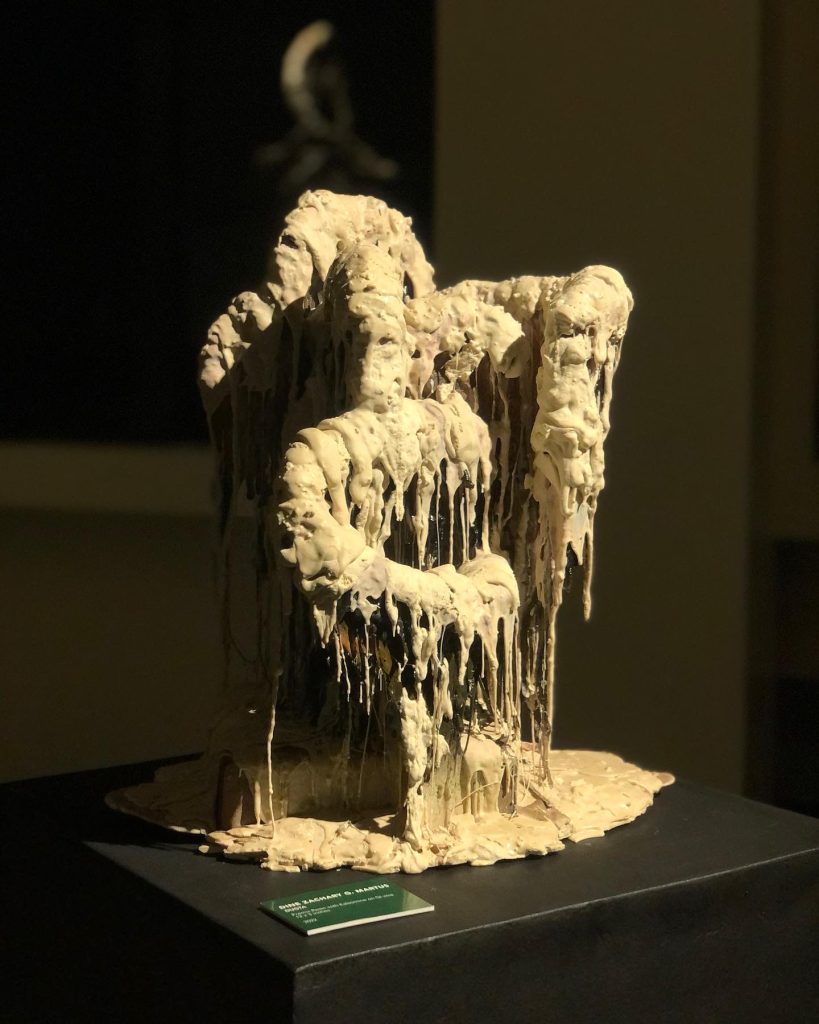 I thought of her spiky and spunky pieces as very romantic, and very sacred. Her works express the random yet beautiful occurrences in nature. To work in that manner I imagine, must take a lot of courage, which can be very exciting but scary at the same time. She lets chance do its part in art production, which is quite admirable.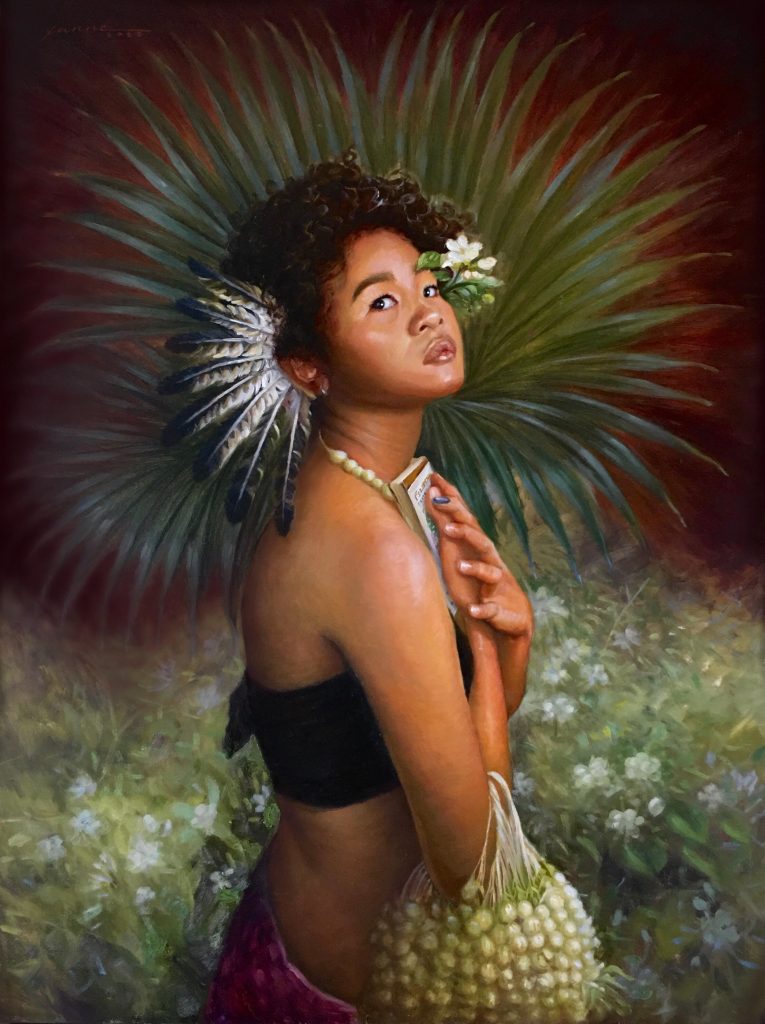 Xanne's artworks on femininity
When I was tasked to look for the best artists around in Tubo, I found it to be quite challenging as there was so much work to review in such a short time. I decided to just roam around and pick what catches my eye first – the first booth that caught my eye was Xanne. Her works had a magnetism that was hard to ignore, as is such because they were very soft and sincere portraits of women. I had a short interview with her, and she said she enjoys painting women in different situations.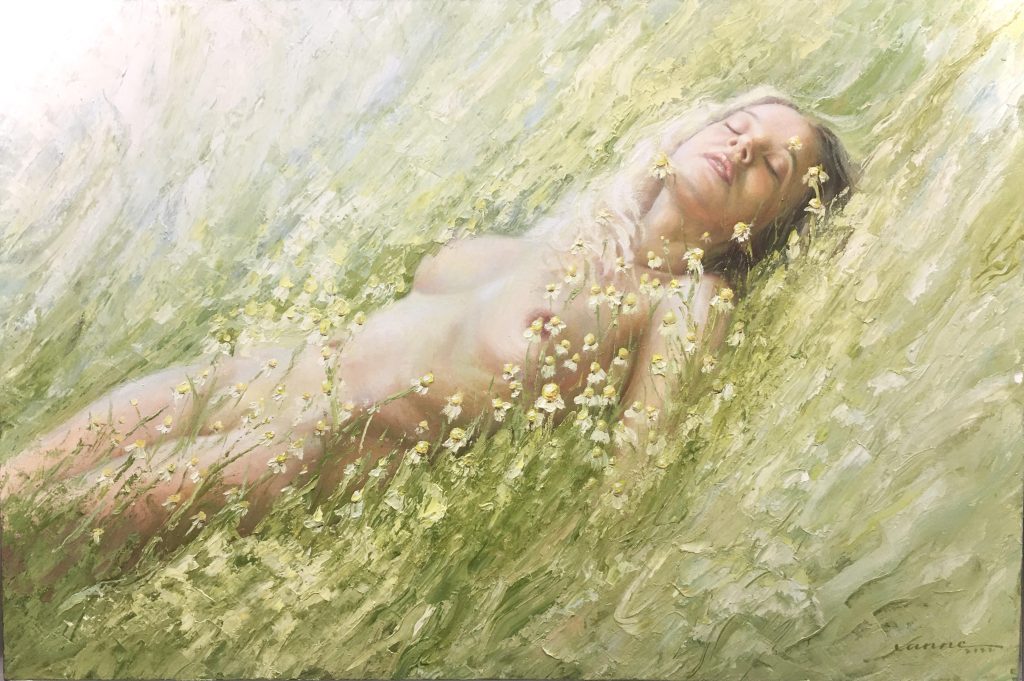 I found this young artist to be very important in the way she works because, for a long time in history, most male artists would often use women as their subjects for their paintings. We can see this crucial shift in art as the female narrative is now being claimed by women – to tell their own stories and experiences.
Wyndelle Reymonde's eccentric world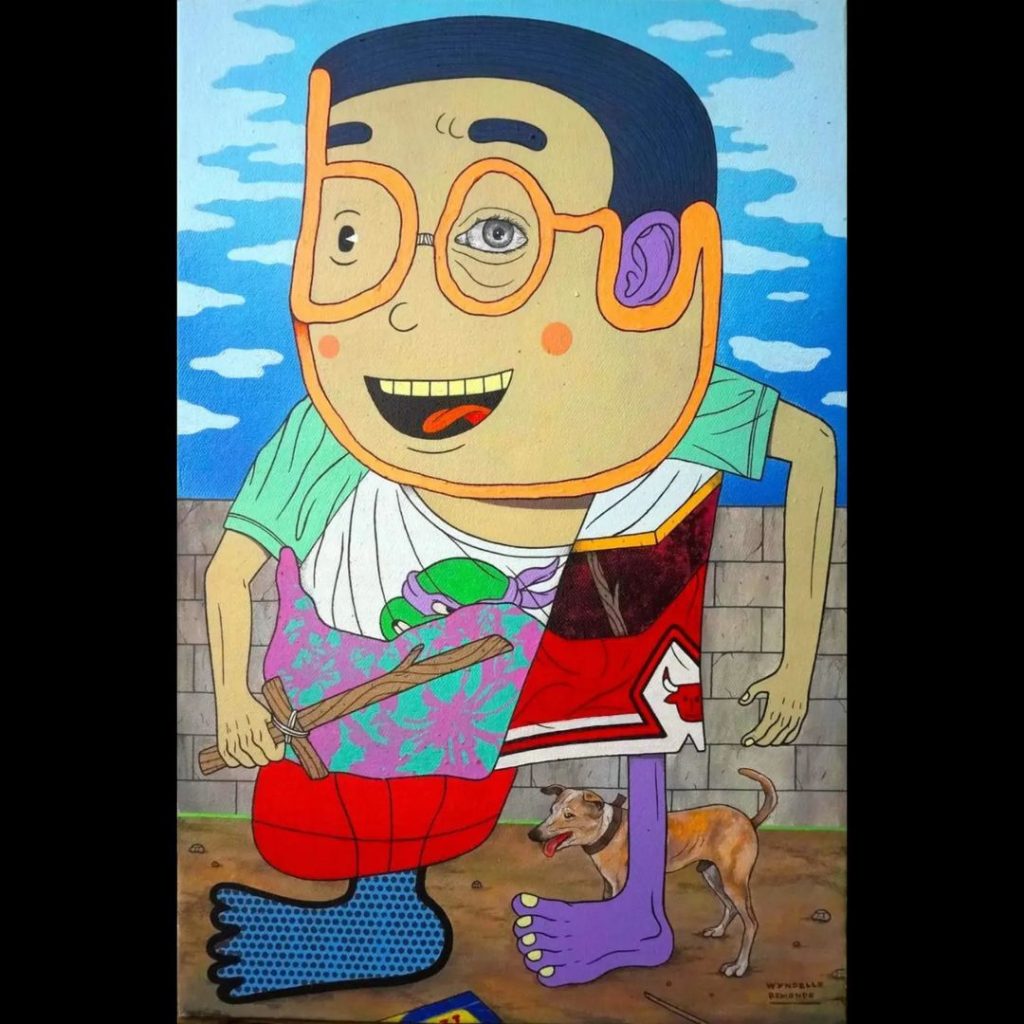 I have seen Wyndelle's work all over Cebu and from my home province in Negros so I was very happy to see him at the fair! His works have always fascinated me, especially his trademark carabao motif. The pieces I was drawn to were the screenprint editions he made, very well done. His work hits close to home because it reminded me of artists from where I live, Cadiz City.
They lived near the sea and had a special relationship with it. My father was good friends with these people, as he would get most of his tattoos from them. Wyndelle's work provided a nostalgic element for me, a reminder of my early childhood years.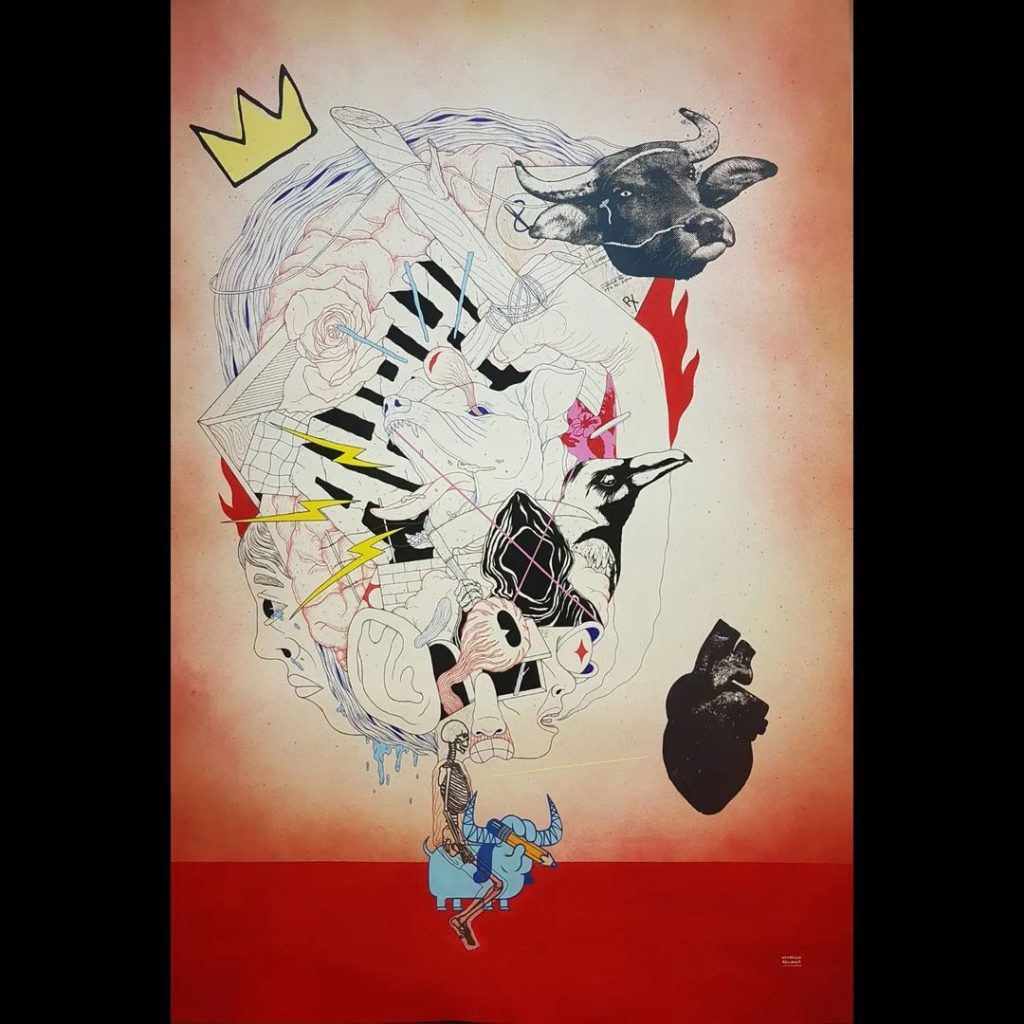 The artist uses compositions that have bursts of colors and are full of life, always exciting and wacky. The mixed media works he presented for the fair establish him as a creative who has no limits, unafraid to go beyond the borders of what is considered a proper painting.
Wyndelle also owns and handles Studio 201, a gallery in Argao City.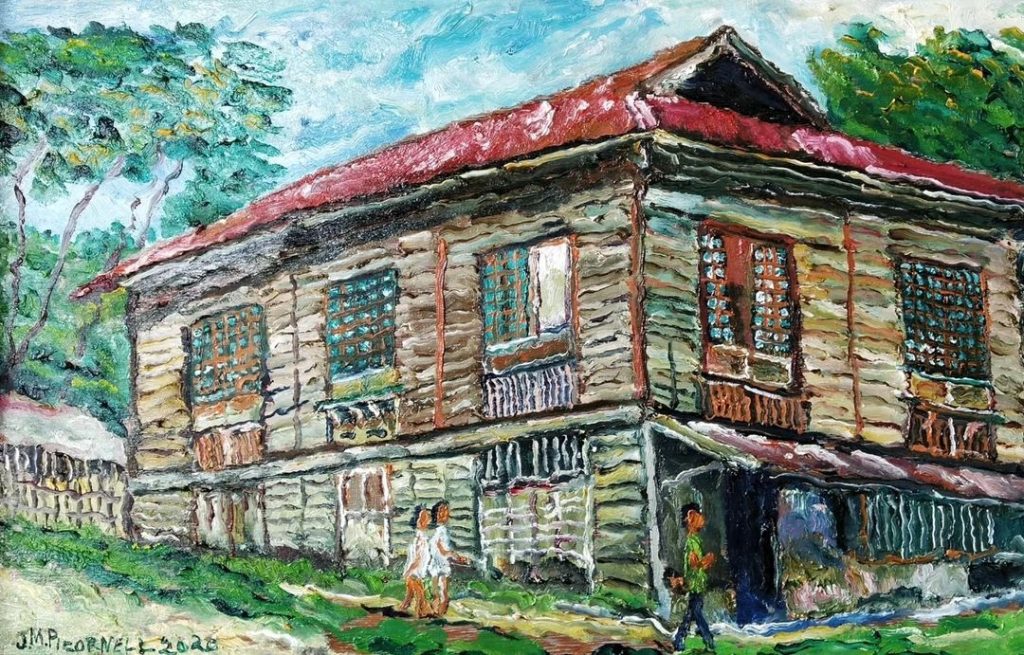 J.M Picornell, electric paintings
Picornell's works are outstanding paintings of urban and rural Cebu. He turns the mundanity of daily life and makes these gorgeous pieces of art through his method which he calls, "direct painting". I told him it reminded me of Van Gogh's art, as it had this same electric energy, almost as if the paintings had a life of their own, moving inside the canvas. He paints still lifes, old houses, and landscapes in a highly textured manner, very exciting to look at.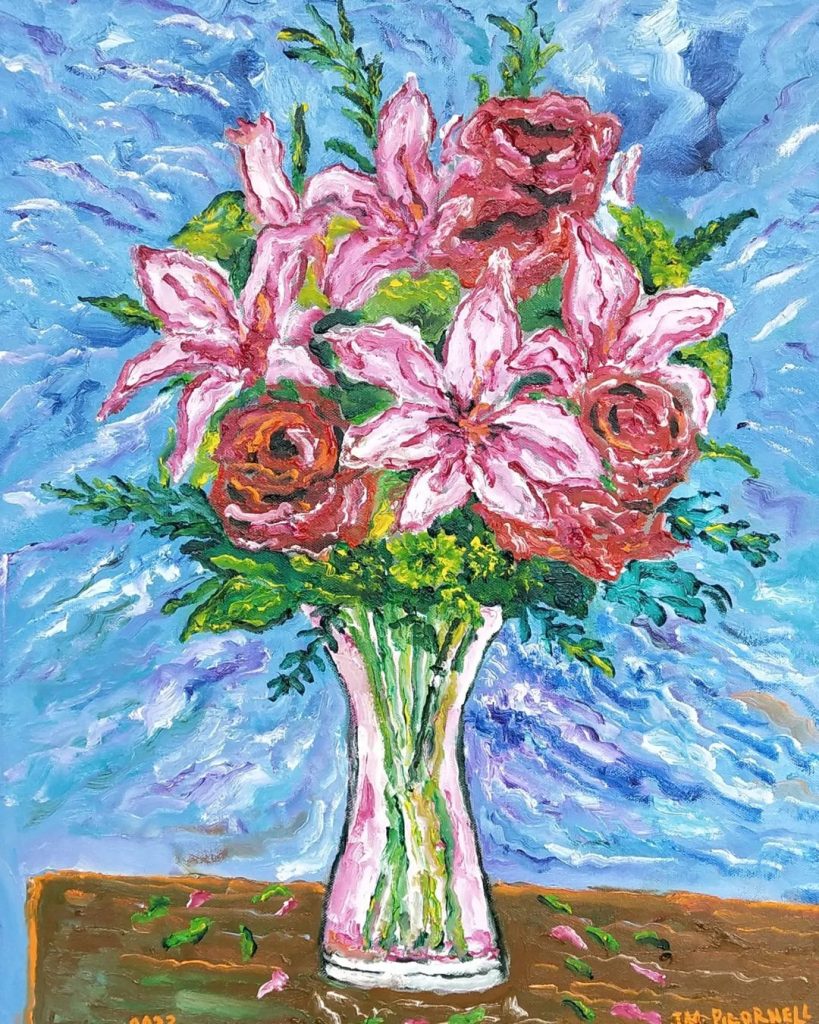 Stay up to date with Tubô Cebu Art Fair through their Facebook and Instagram.