Some people wait and prepare all year for their Halloween costumes, while others—well, they put a pin in it, until suddenly it's October 30, and they're aggressively Googling for some easy costume ideas.

Whether you're going to a party last-minute, plugging into a Zoom costume contest, or simply just want to take a photo to celebrate spooky season, there's plenty of easy Halloween costumes you can put together in a pinch.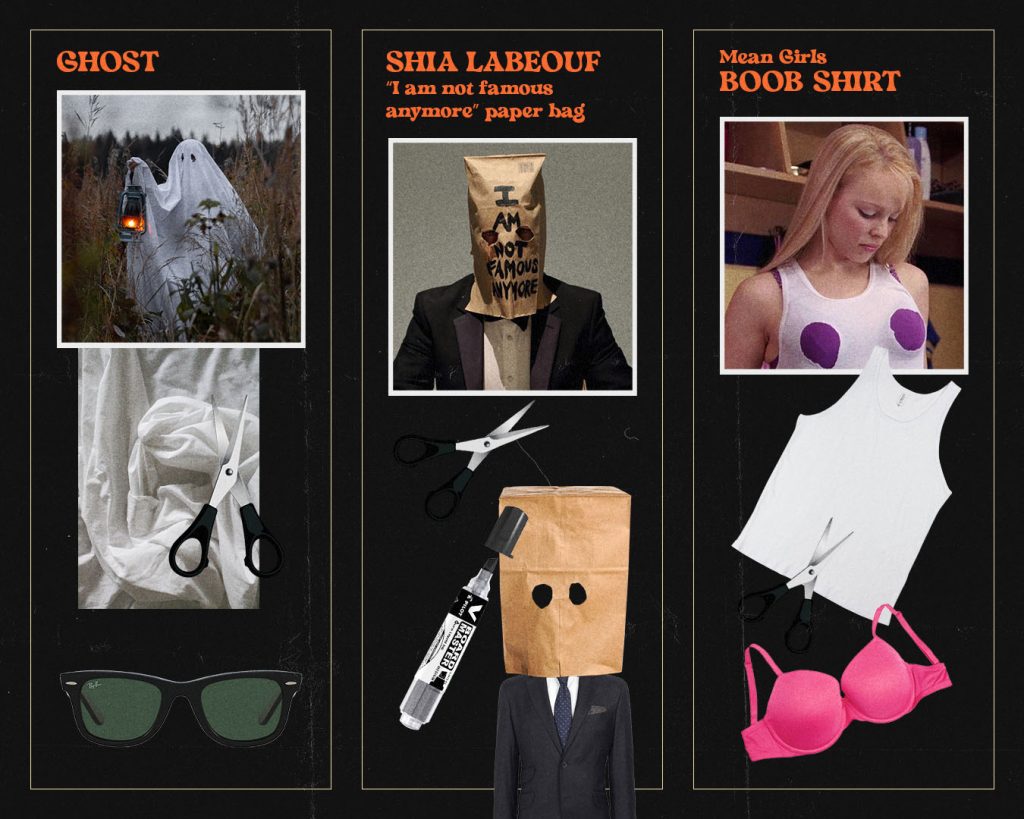 Ghost
A timeless choice — kids and adults alike have been draping white sheets over themselves to portray ghosts for as long as we can remember. Take an old white sheet and cut some eyeholes in it (or not, if you like to give yourself a hard time) and add some accessories like a cap or sunglasses to give the impression that it's not completely rushed.
Shia LaBeouf's "I Am Not Famous Anymore" Paper Bag
When the Even Stevens and Transformers star showed up on the red carpet with a bag over his head, I knew it would become one of the easiest Halloween costumes to throw on. Grab a brown paper bag, cut some holes for your eyes, and write "I am not famous anymore" in big, uppercase letters. Put it over your head and pair with any outfit (though a suit or tux is preferable) and channel your inner Actual Cannibal Shia LaBeouf.
The Mean Girls Boob-hole Shirt
A true classic, this costume only involves an old shirt you're ready to let go of, some scissors, and a colored bra. Cut two holes in the front of the shirt and walk around with the arrogance of Regina George knowing she can start a fashion trend just like that.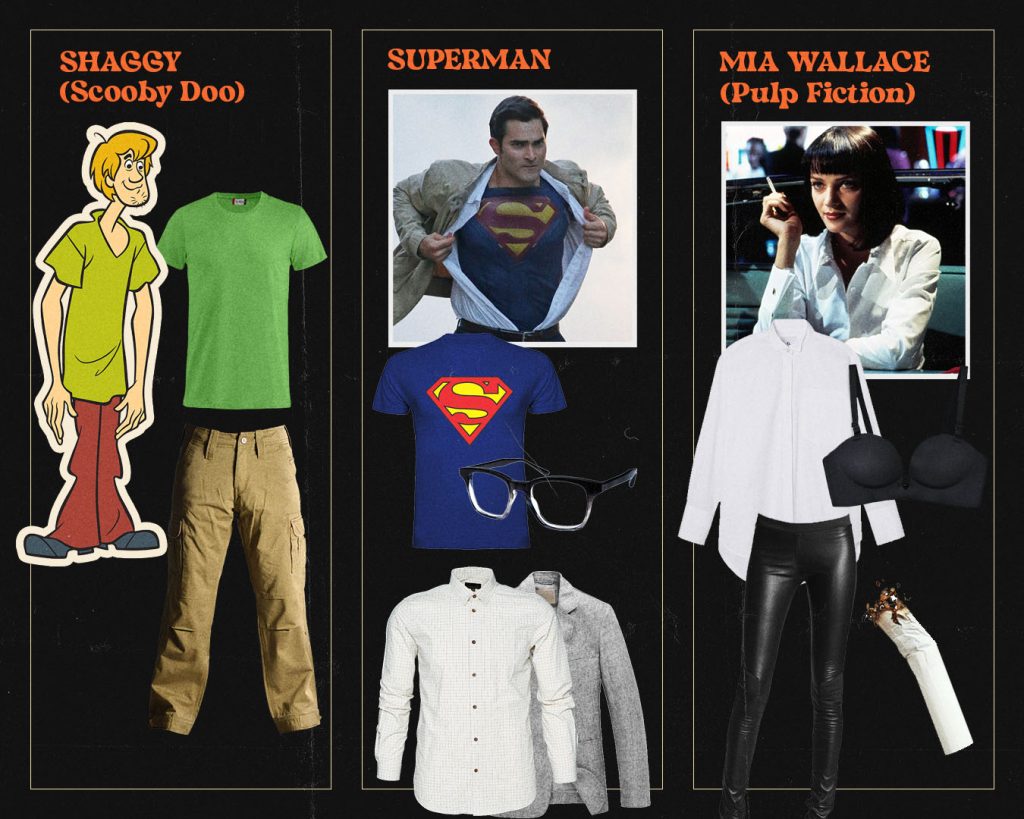 Shaggy from Scooby-Doo
Though this costume would be way better if you had a brown Great Dane with a blue collar, if people ask you where Scooby is, you can just put on your best Shaggy voice and say, "Zoinks!" Dig through your closet or ask around your friend group for a green shirt and some brown pants, and you've got yourself a costume as easy to recognize as it is to make.
Superman
Probably a good majority of guys out there have a Superman shirt, and while it may have been relegated to their home or sleep clothes drawer, you can throw a white button-down over it, put on some glasses, and you've got yourself an off-duty Clark Kent.
Mia Wallace
This Pulp Fiction character has graced many a college dorm wall and Tumblr post, and has probably been a lazy costume for years since the movie came out. All you need are some black pants, a black bra and a white long-sleeved button-down. Optionally, you could carry around a cigarette. The best perk of this costume is the ability to get out of conversations quick yet still stay in character: "I'm gonna go to the bathroom and powder my nose."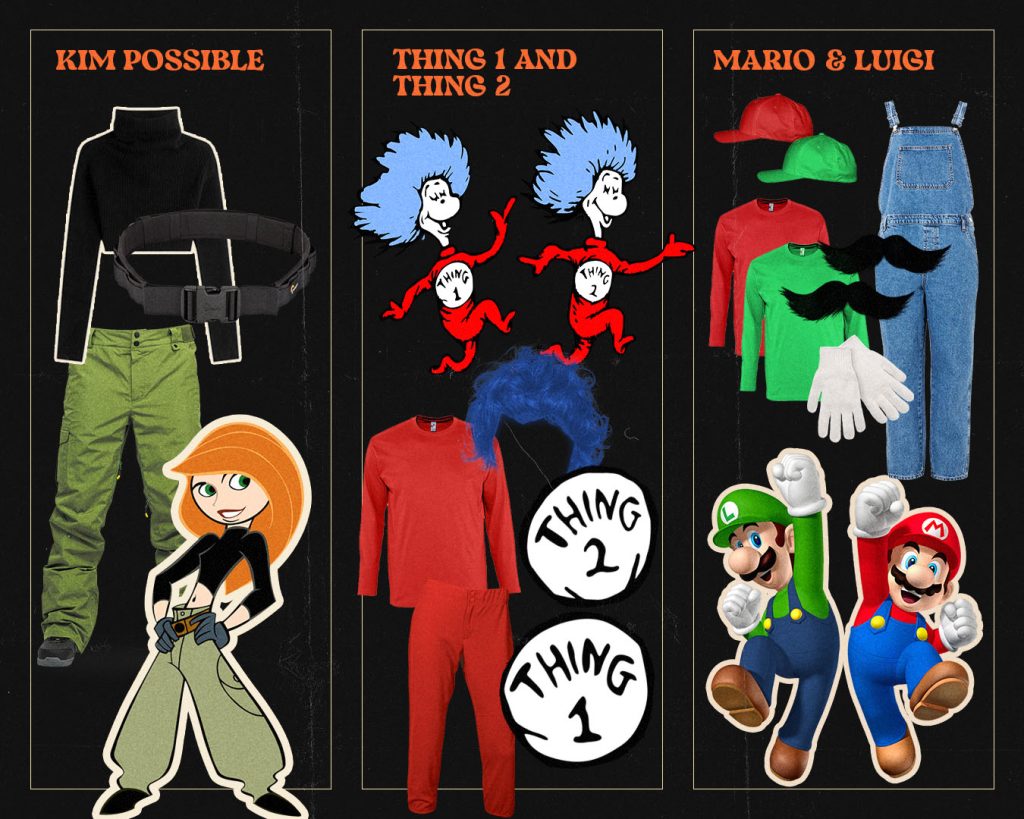 Kim Possible
Realize your childhood dream of being Kim Possible. Wear a cropped black turtleneck, some green cargo pants and, if you have one, a utility belt, and you've got the sitch under control. If you really want to get the look down pat, put a blue phone case on and you've got yourself a Kimmunicator.
Thing 1 and Thing 2
A little trickier, this couple's costume requires some blue hair, whether it's through a wig, colored hairspray or hair chalk. Wear an all-red outfit and stick some low-effort "Thing 1" and "Thing 2" signs on your chests, and you can say you actually tried, when really, you didn't.
Mario and Luigi
Another couple's costume, this look can be as simple or complicated as you want to make it. Keep to the green and red theme, wear the classic denim overalls and hats, white gloves, and stick (or draw) on some fake mustaches for the iconic Mario and Luigi look.