Sinulog is, without a doubt, something every Cebuano would take pride in. But the Sinulog memories I favor go back to when I was very, very young, and not running off to enjoy raves (getting completely inebriated with paint all over my clothes).
True story: I once went to do my lady business in a God-knows-where public bathroom, only to find someone had painted both my armpits completely black. Yes, black paint.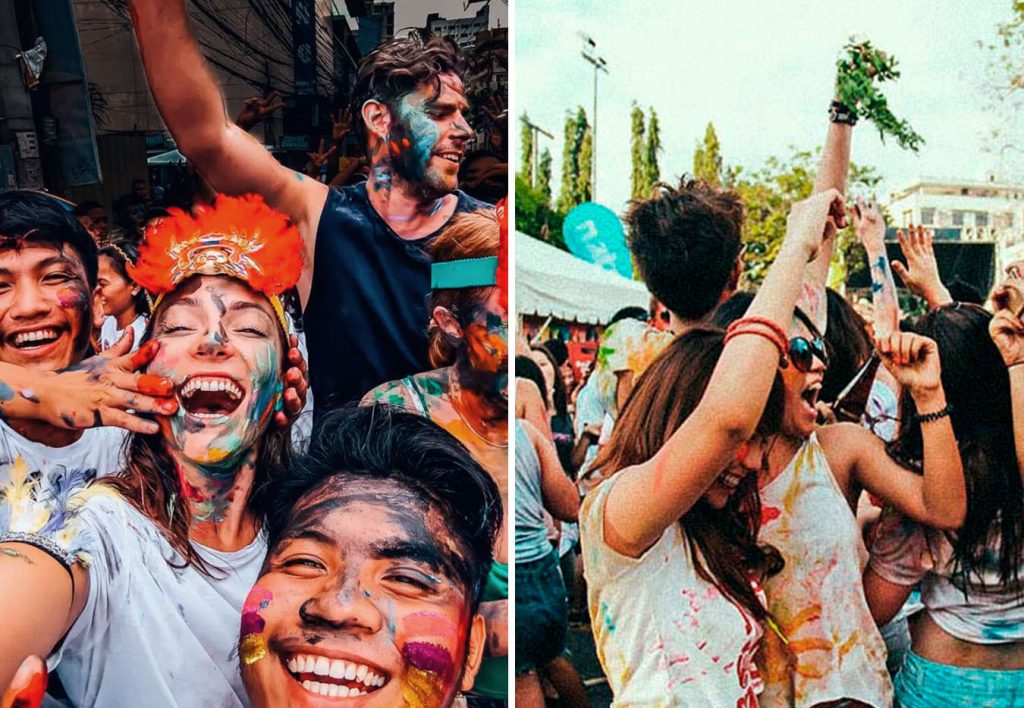 There was a time when the festival seemed more authentic and more than the street parties it's become famous for. Yeah, I've been there, and I get the hype. But just the other day, a coworker of mine (who isn't from Cebu) told me that he doesn't actually understand Sinulog. He doesn't get why Cebuanos celebrate it.
Well, Kong, this story's for you… and other people not from Cebu.
As someone who's lived in Cebu all her life, I have a lot to say (and it's not because I was forced to write this article). The story of Sinulog goes way back, but I'm not about to bore you with a history lesson. Anyone can Google how Sinulog became *cue jazz hands* Sinulog. But what does Sinulog mean to me? Well, in some ways, Sinulog is like Christmas. That statement probably made you frown. Hold your horsies. Sinulog is like Christmas. Well, why not? Families gather, there's drinking… Oh, your family doesn't drink? Okay.
When I look back, I could say that I loved Sinulog. You see, I used to live on F. Ramos Street. For those of you who don't know where that is, just Google it. No, I'm kidding! It's a street near Fuente Osmeña, literally what's called the heart of the city. It's a part of Cebu that's the most alive on the third Sunday of January.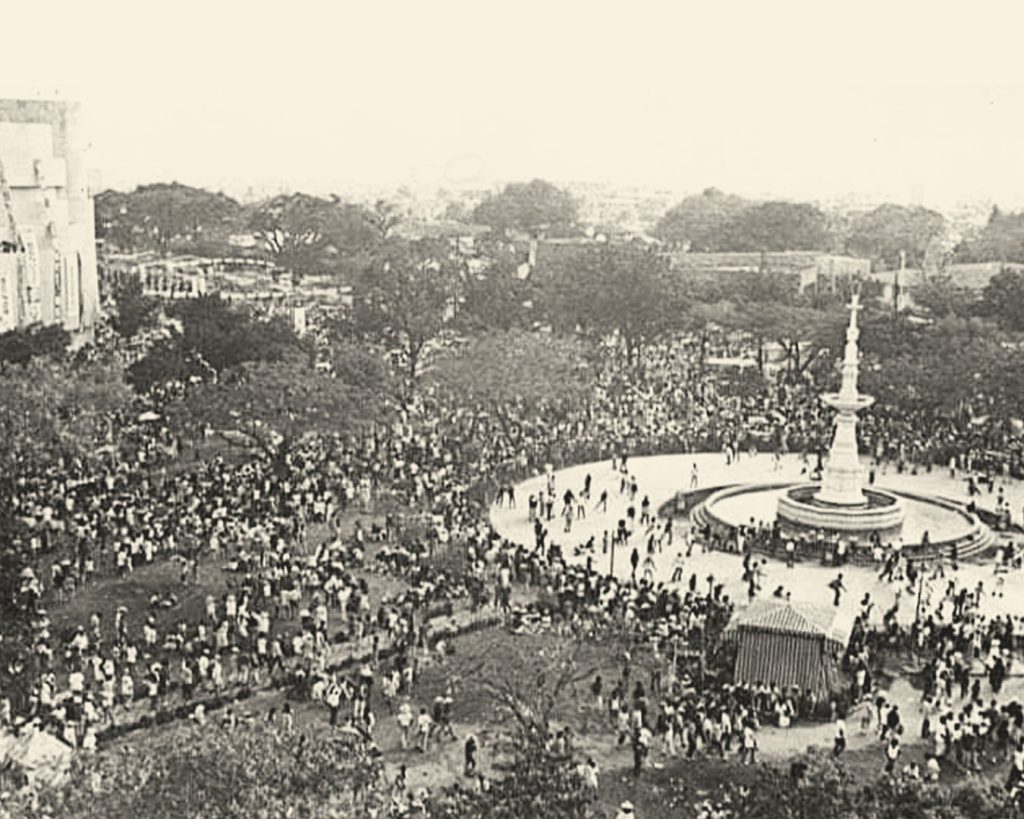 Sinulog in Fuente Osmeña, 1984
Every year on that day, I would hear those notable chords of the Sinulog theme song the second I'd wake up. And every time, I'd get up feeling exhilarated. It'd be like when that gypsy Clopin sang "The Bells of Notre Dame" in the Hunchback of Notre Dame intro. (If you're a Disney junkie like me, you'd probably know what I'm talking about.)
Although there are pretty much dozens of activities to enjoy during and before Sinulog, I didn't actually experience all of them. But I'll tell you what went on the streets near my home. 
Go ahead, have a listen.
My grandparents own a considerably distinguished (in the 90s, at least) establishment on the same street we lived on. A popular destination for tourists and festivalgoers, indeed. From outside, there'd be a flock of people and a variety of activities. And I mean a va-ruh-yeh-tee. There's face painting to honor the tribal and cultural celebration. Before hennas became a thing, we had washable tattoos (which I'll admit, I miss so much). There were street vendors selling masks with feathers and colorful blowhorn toys, which Cebuanos call torotot. Ugh, what magic.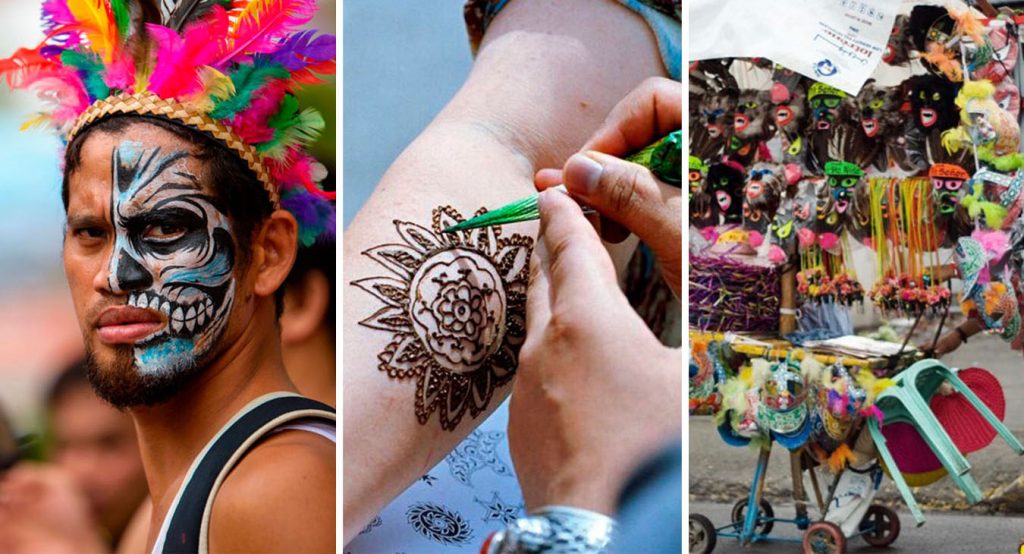 Aside from that, I have aunties and uncles who loved to cook and celebrate the festival by watching the grand parade. For many years, they'd rent a space on the streets to set up a food stall, serving barbecue and many other Filipino snacks.
This parade was (and to many, still is) a big thing. Starting and culminating at the Cebu City Sports Center, covering most of General Maxilom Avenue and Osmeña Boulevard, you're looking at a 6-kilometer distance and roughly 9 to 12 hours of walking and dancing (and smiling, sheesh). Not only that but at the end of the parade, guess what? The street dancers move on to compete with their final performance at the CCSC. Talk about dedication, huh?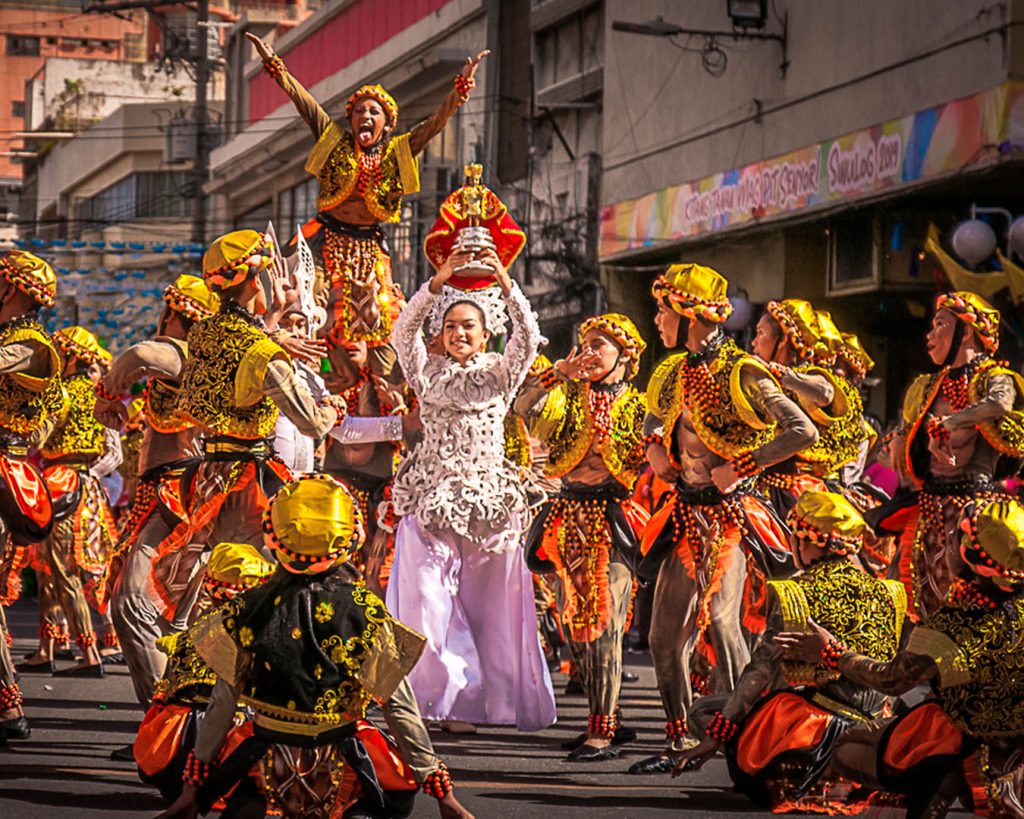 Step into my shoes. No, really. Every Sinulog day, you'd be walking for hours. Whether it be attending mass at 4 AM, trying to find a place to grab a meal, or getting a better view of the parade, you'd better be prepared to put on some sensible shoes and walk. When I was even younger, my dad would sit us on his shoulders to get a better view of the parade (he was much younger then as well) or when we got tired of walking.
Looking back, it feels as though I had a much better sense of what Sinulog stood for. It's not a reason to party, but a time for Cebuanos to be connected. Plus, there's so much wonder and simple joy, especially through a child's eyes.