Is Chase Cokaliong just some bored rich dude with nothing better to do but give free stuff away? You'll have to reach the end of this article to find out. What I can tell you is that this is not some rags-to-riches sob story, but more of a riches-to-riches tale of amusement… and beyond. 
I bet his last name had you singing the wonderful Cokaliong Shipping Lines (CSL)  jingle. The fact that it's already considered a classic even if it's actually not that old speaks volumes of how influential the homegrown shipping line is. The space that CSL occupies in the shipping business is a flourishing one that took a lot of hard work since its founding by Chester Cokaliong, Chase's father, in 1989. 
But, I digress. We're here to talk about Chase, not his family. But I guess when your last name is attached to such significance, it can't be helped sometimes. So let's start with the part that couldn't be helped.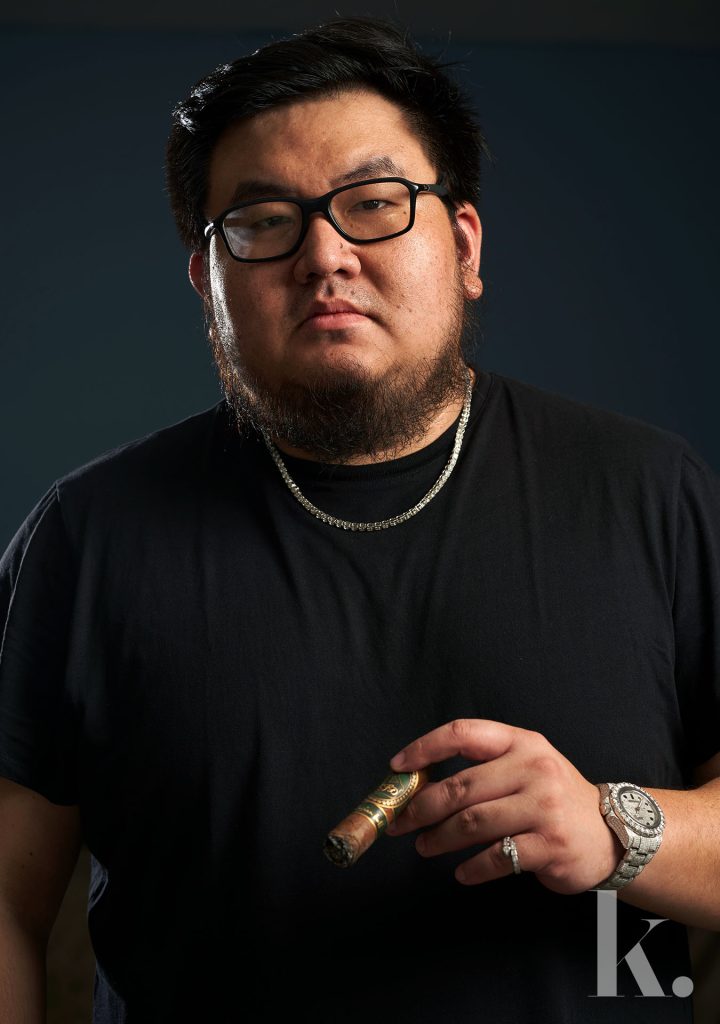 The Part That Couldn't Be Helped
As young as 10 years old, Chase would wake up at 6 in the morning every Saturday for his weekly visit with his father to the pier, where he would stay until around 10:00 AM. "I think I was brainwashed when I was young," was his answer to my question if he had other aspirations outside the family business. He's the eldest of his generation, so the responsibility naturally fell on him. I believe Chase's practical outlook on life made the acceptance of his duty much easier. At the same time, Chase stays true to his name with his pursuits and impeccable work ethic. He takes it as it is, but he will do more.
After graduating from Sacred Heart School (old campus) in 2006, Chase was eligible for a scholarship given by the government of Singapore. Out of 10,000 applicants and after a rigorous application process, he passed, despite his less than impressive in-person interview due to his shy personality. However, back then when the Philippines did not observe the K-12 educational system, Singapore already did. This meant that Chase would have two more years to finish before he could start working for the family business. His father did not like the idea of the delay, so he enrolled him in Ateneo de Manila University instead. 
"If you're the smartest man in the room, you're in the wrong f*cking room. Murag ikaw pinakagwapo sa tanang bati'g nawng. Ako, ako'y pinaka bati'g nawng sa tanang gwapo, so gwapo gihapon ko."
While there, Chase spent four years in the school dormitory that had a communal restroom for each floor, with three other roommates in a non-AC room, while making the most of his Php 300 daily allowance in the more expensive Metro Manila. His Manila stint was also his first taste at freedom, being away from the family, and all that. If it sounds like a college movie, it probably was. Chase shares that he has no regrets about the experience, as he met his best friend there and learned a lot about himself in the process. 
The next day of his graduation was his first day at the office as a "special assistant to the CEO or sh*t like that." After three years, he juggled that job with being the company's HR Manager. Two years later, he landed the role of Vice President. Today, he is still that, plus HR Manager. He also handles operations, purchasing, etc. "It's crazy, man. It's crazy," Chase fondly shares.
On top of CSL, Chase also runs StorageTown, CrossFit Subtero, and Bayfront Hotel with varying degrees of responsibility and ownership.
Written in the Stars
It was probably fate for Chase to have such a cool first name as it's in alignment with the high rating of his influence or fame star according to his Feng Shui and Bazi consultant, Judith Eugenio, who is in charge of his destiny chart. Chase is on his own pursuit to share in the glory of the great mononym club, following its champions Madonna, Prince, Disney, and Caesar, among many others. This forecast, coupled with boredom brought by the pandemic's lockdown, was the catalyst for his Instagram giveaways. 
It began as a social experiment of sorts to test out the water and validate Judith's reading of his destiny chart. The very first giveaway that started it all was the 1.2-carat diamond ring. Needless to say, there were doubters of its legitimacy. I mean, who could blame them? Who in their right mind would freely hand out a freakin' diamond ring to just anyone? Chase, apparently. According to him, it was just sitting in his vault as a previous purchase from a few years ago, so he figured that he might as well have someone else benefit from it.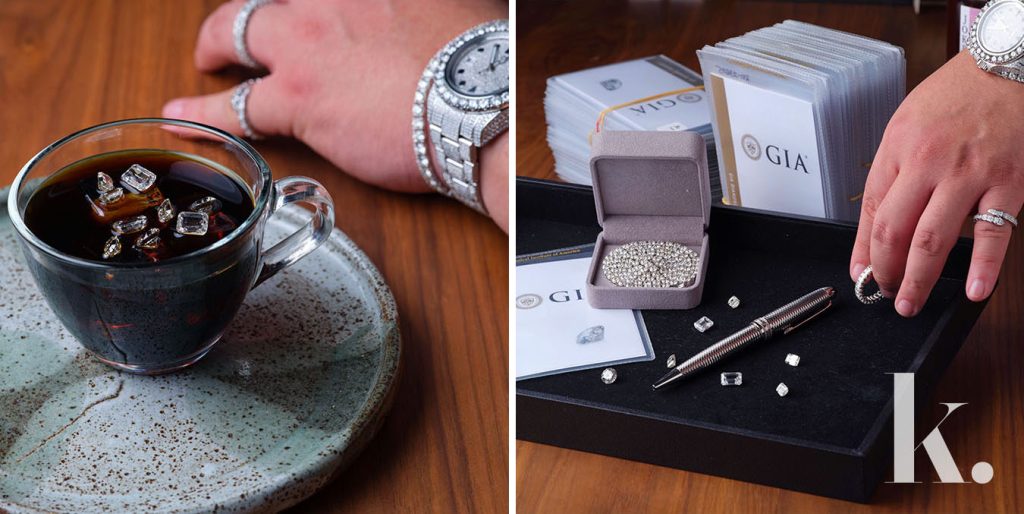 His followers skyrocketed from 4,000 to 35,000 after that, which was beyond his target of 10,000. To date, Chase has 123,000 followers. With this almost instant rise to fame, he expected to find hate comments. There hasn't been a lot, but those that did call him an arrogant show-off still joined his giveaways. People love free stuff so much, that principles tend to fly out the window.
"I want to help people in a fun way," Chase explains the purpose behind his Instagram raffles. He emphasized that the primary goal is that others would profit from it. Apart from being able to promote his businesses, it's also a way to support other local businesses, whether they belong to a stranger or a friend. Chase says that whatever money comes in from his brand partnerships always goes out for another purpose that would benefit others, catapulting a healthy cycle of giving back what is given to him. 
The Most Important Thing in Life
For Chase, family is the most important thing in his life. His wife, Tritzie; their 2-year-old daughter, Cali; and their newborn Cade, are the why behind his long hours every day. His daily routine consists of waking up at 6:00 AM, going to the pier at 7:00 AM, heading to the office at 9:00 AM, and staying there until around 6:00 PM. He then proceeds to the pier and stays until 7:00 PM. You'd think his day would be done, being the head honcho of a leading company in the maritime industry and all that. It's quite the opposite. After that, Chase moves on to meetings that are important to his lifetime pursuit of security for his family. "To be honest, I wouldn't skip time to go home to my family if I wasn't meeting somebody of note or if there weren't opportunities involved," Chase confesses. He then arrives home around 10:00 PM. Of course, he has days that end at 7:00 PM with no meetings after and goes straight home to his wife and kids at a decent hour to spend time with them.
Chase's plate is not full. It's overflowing. I ask him how he achieves work-life harmony and he responds with steadfast certainty: "My wife. She's very understanding. I would not have married her if she wasn't." Chase goes on to say that Tritzie understands that his long hours are for the family. She focuses on home life and is free to pursue business endeavors of her own. For Chase, choosing a life partner is crucial, but he and Tritzie dated for only six months before getting married. What accelerated their decision was Chase laying down all his cards for Tritzie who gladly chose to accept. He basically cut to the chase. Pun intended.
"Always remember that no matter where you are in life, there is always someone better than you and someone looking up to you."
Chase shares, "I was looking more for a partner in life, rather than a lover. That's the part that lasts. The cheesy sh*t? It doesn't last." Hopeless romantics can learn a thing or two from Chase's pragmatic approach to love. He filters out the unnecessary movie-like presentations of love and romance and hones in on the things that truly matter in the long run.
Chase wants to instill in his children this realistic and genuine attitude toward life by teaching them to be kind, work hard, enjoy life, and be practical. Chase calls out privileged kids who act like they run the world and treat the working man poorly. He wants to pass on to his children a valuable lesson he learned from his mother: to treat everyone, from the CEO to the janitor, with a certain level of dignity. 
When it comes to his children's careers, Chase will be supportive of their choices, whether they want to be an artist or a professional basketball player, as long as they balance pursuing their passion with prioritizing their financial security. As a father, Chase teaches his kids to work for what they want, while also giving them a headstart in life. "I don't want them to just rely on me. I will just provide them seed money, or fixed savings once they reach a certain age." This advantage that his son and daughter are inheriting is the fruit of his daily grind and commitment to his family.
Learning from the Greats
Early on, Chase learned to mindfully select the best qualities in the people who surround him. Choosing who and what influences our decisions is pivotal in the way we navigate everything. Chase points out the three most influential sets of people in his life: his parents, his close group of older friends, and the world's greatest entrepreneurs and masters in their fields. 
Chase considers himself the amalgamation of the best traits of his father and mother. From his father, he learned hard work, discipline, and the unwavering dedication to show up at work every day. Patience, compassion, and kindness are the values he learned from his mother. 
You cannot be great by believing you're already the best. This is what Chase has learned from his older friends, emphasizing, "If you're the smartest man in the room, you're in the wrong f*cking room." He continues, "Murag ikaw pinakagwapo sa tanang bati'g nawng. Ako, ako'y pinaka bati'g nawng sa tanang gwapo, so gwapo gihapon ko. (It's like wanting to be in a room with the ugliest men so that you're the most handsome. As for me, I'd rather be the ugliest person in a room full of the most handsome men. I'd still be handsome.)" 
Chase maintains this small circle of friends and keeps a distance from his many acquaintances, because a few of whom, according to Chase, are "butterflies." "I hate butterflies," Chase confesses. He prefers honest people who value good character over good perception: "If I like you, you will know. If I don't like you, you will know. I don't care about perception." And that's on periodt.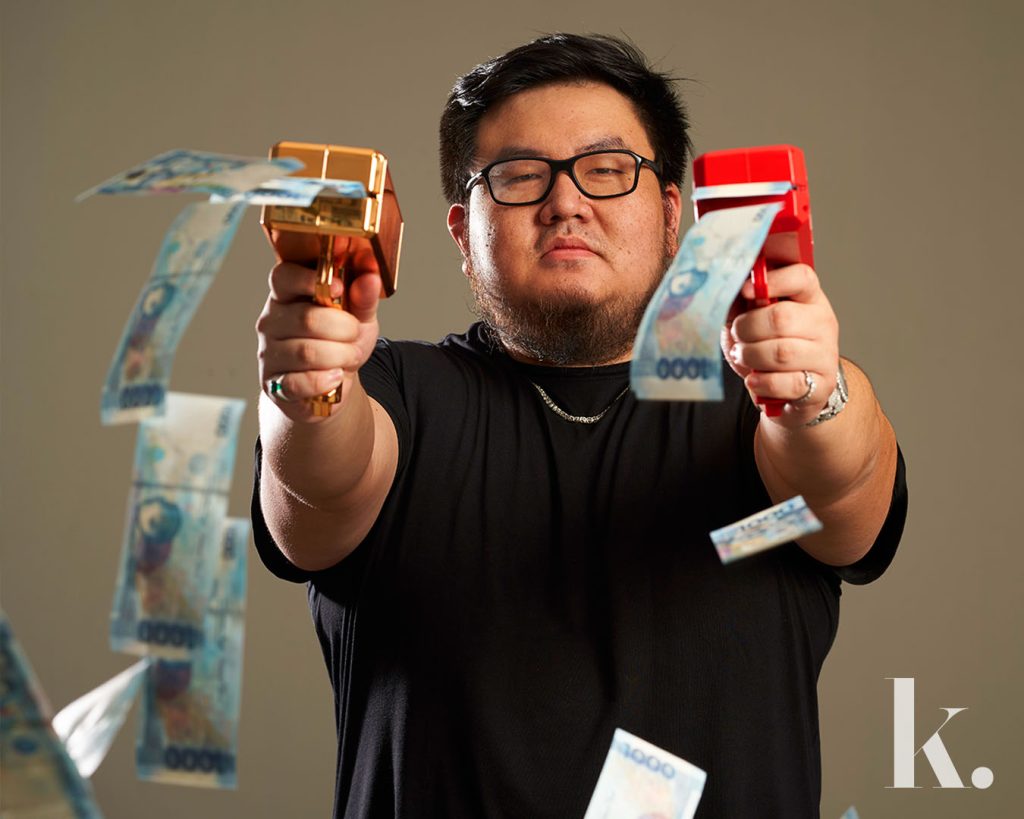 It's also important for Chase to have the backbone to take a stand no matter how unpopular your opinion may be. He recalls losing almost 2000 followers after posting a photo of him with Louise Marcos, the wife of presidential candidate Bongbong Marcos. Whether you share the same political opinions with him or not, one thing's for sure: those 2000 followers lost the chance to win any of his giveaways.
The last set of the most influential people in his life would be different experts in their respective fields. He watches Masterclass a lot: "I love watching the CEO of Starbucks telling me how they succeeded in China after 10 years of failure. Or the CEO of Disney sharing how they acquired Marvel. I even watch FBI negotiators how they go about their negotiations." Chase also emulates industry leaders such as Mark Zuckerberg and the late Steve Jobs, which is why he dresses the way that he does: "I go simple for the things that don't matter like my clothes. I wear cheap plain black t-shirts and pants. For my shoes, well, I wear Gucci slides." It's a balancing act, I guess? 
Chase also points out what these successful industry giants have in common: they wake up early. He paints a formula for me: If you wake up at 6:00 AM, that's two hours before the usual start of the day at 8:00 AM. If you work until 7:00 PM, that's two hours more than the usual end of the day at 5:00 PM. You'll have an advantage of four more hours over everyone else. Multiply that for the year, you'll gain six months more. In two years, that's one full year above everyone else. That was the moment I realized why Chase Cokaliong is who he is, and I'm not. 
Paying It Forward
Before I get lost in an abyss of self-deprecation for not being a morning person, I'm reminded of Chase's inspiring yet realistic words to those who consider him a role model: "Always remember that no matter where you are in life, there is always someone better than you and someone looking up to you." He gives an example of a person who has lost an arm looking at someone with all their body parts intact and wishing for an arm. That someone with complete body parts might be homeless and will wish for a home. That homeowner might want to have a small business. That small business owner might want to expand to having a physical store, and so on and so forth.
For Chase, the ultimate sign of success is when his investments and business work efficiently to make him money, while he enjoys quality time with his family: "Success is not the number of zeroes in my bank account. It's the number of zeroes on my watch." 
"If I like you, you will know. If I don't like you, you will know. I don't care about perception."
With all of his accomplishments so far, Chase believes he still has a long way to go to achieve his life goals. However, he already knows what legacy he wants to leave: to be known as someone who helps people without any fuss, a good father who is present, and a good businessman who shares his blessings. In true Chase fashion, his legacy is simple but not easy. After all, it's all about the chase.
So, what's wrong with Chase Cokaliong? He's a bored rich dude who gives back to random people in a fun way, he wakes up at 6:00 AM and works four extra hours every day than the rest of us, has meetings until 10:00 PM, collects whiskey at insane prices that many of us can't even wrap our heads around, doesn't care about people's perception of his choice for president, and he's not romantic. Got your answer?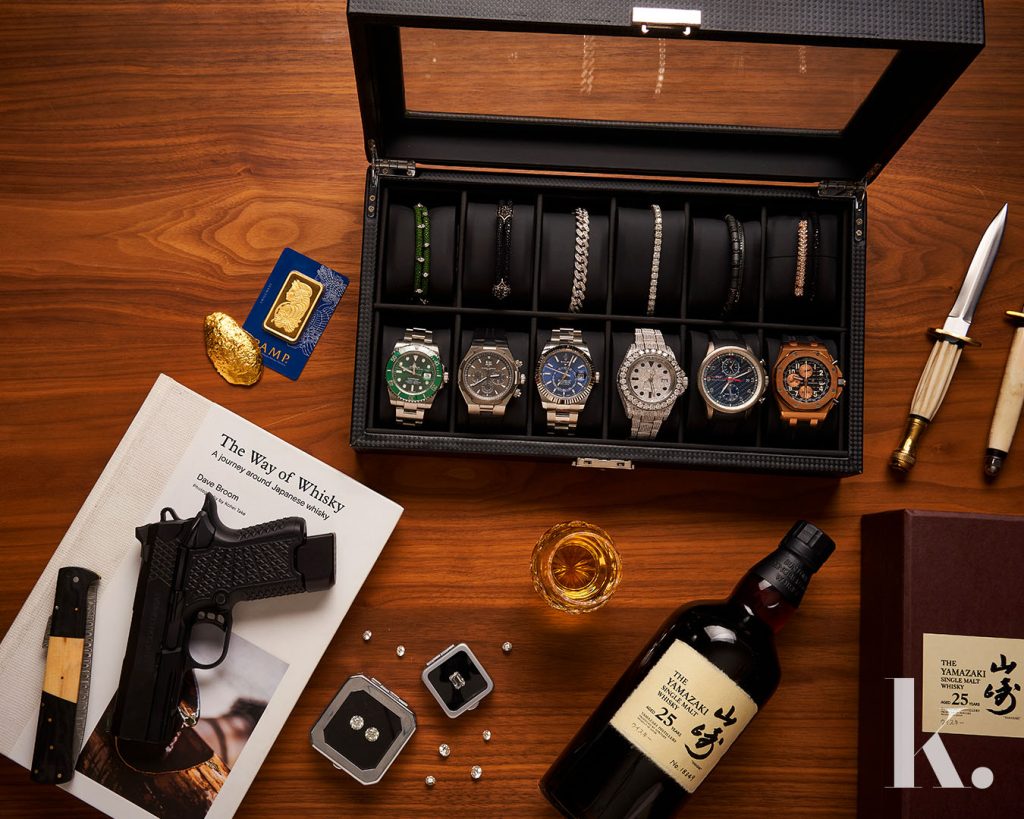 QUICK HITS
What collections do you have? Whiskey (20M worth), jewelry, guns, knives. I generally don't collect anything that doesn't increase in value. I treat everything as an investment.
Most luxurious purchase/s? Yamazaki 35 whiskey at Php 4.5M when I bought it in 2020 (it's now worth Php 6.5M!); a 55-carat diamond tennis necklace with 106 stones that come with 106 certificates, which I wear on special occasions; and a custom Wilson Combat EDC X9S handgun at Php 400,000.
Favorite vacation destination? So far, L.A. The next one that I'm looking forward to is Kenya.
Favorite cheap thrill? Talisay food trip with Mayor Samsam Gullas, which includes Beef Pares ni Otits, batchoy, pungko2x, and tuslob buwa. I grew up at the pier, so where do you think I had dinner?
Favorite movie? The John Wick series. Fits my vibe.
Favorite food that you would eat forever if you could? Purefoods corned beef; the small cans, not the big ones. They don't taste the same; trust me they don't! I'd rather eat two small ones than one big one.
Photography Oliver Echevarria