Happy and Sad
Is it possible to be happy and sad at the same time? The answer is yes according to Kacey Musgraves and I can't help but sing along to her confirmatory ballad. Isn't that life in a nutshell, though? Singer-songwriter Jerika Teodorico knows it all too well and masterfully captures this tragedy-comedy paradox in her debut album Layat! (Jump! in English). I've had the privilege of listening to all 10 tracks and I can tell you that they are worth the wait.
At the height of the pandemic in 2020, Jerika and I fangirled over the songwriting prowess of Kacey Musgraves because she has the divine gift of writing really good songs—so does Jerika. I've always had a soft spot for songs in the minor key, but I've equally fallen in love with her brighter and faster tracks. Jerika's effortless skill to tell life stories that are simultaneously funny and miserable teaches us not to take ourselves too seriously. There is value in that, which is why it is of utmost importance to listen to Layat!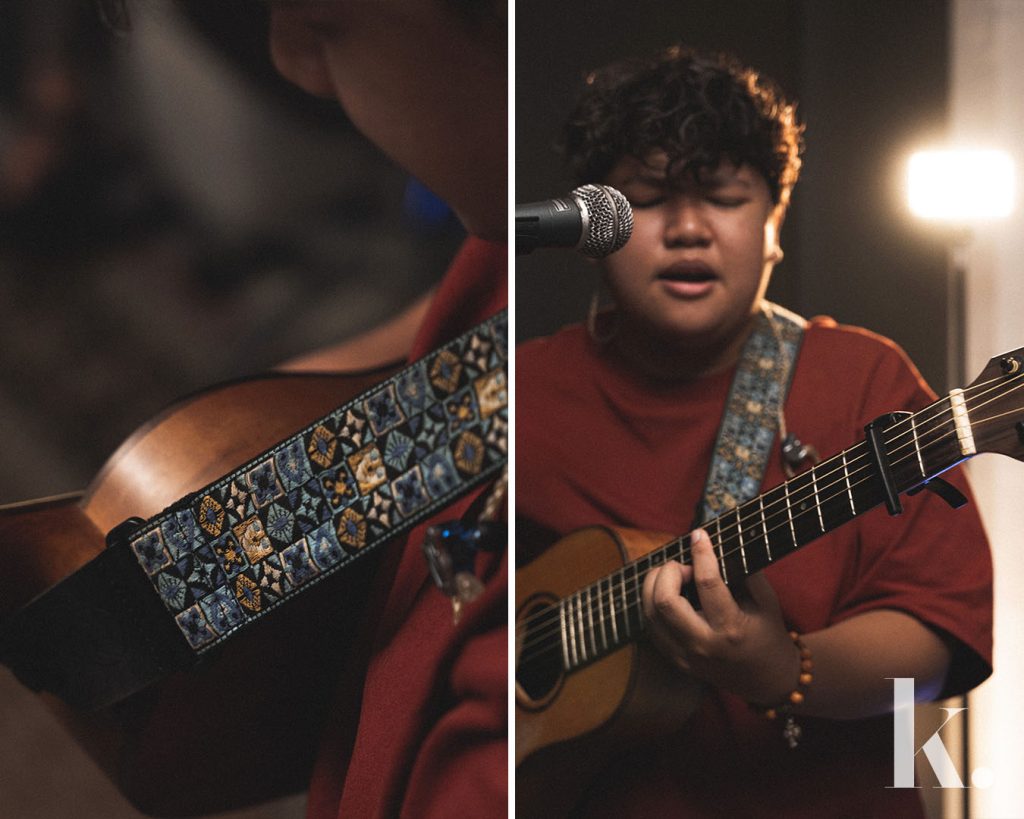 Beginning, Middle, End
Every narrative has a beginning, middle, and end, and Layat! is no exception. Categorically a concept album, Jerika's debut compilation chronicles her coming-of-age saga, beginning with the introduction of a precocious character who ends up learning from her hopeless romantic ways.
The first track, "Downtown Disco" sets the tone for the album, establishing downtown Cebu as the background for Jerika's eventful experiences. The atmosphere is dynamic and feels like everything happens everywhere all at once (*wink*). The sprightly acoustic sound continues with "Wala Pa Ni Mahitabo," followed by the more somber "Kadlawon," both of which highlight the main character's initial indulgent experience of honey-dipping goodness—or in Jerika's words, "first taste of bigâ." Things pick up with the mid-tempo "Tapad Tag Tulog," a duet with another brilliant singer-songwriter Mary Anchit. This ditty sprinkled with jazz inflections is a realization that there are now feelings involved beyond the nether regions. The deeper connection is acknowledged in the next track, "​​Layat," the eponymous title for the album. It's a declaration of love, proclaiming, "I will pursue this admiration for real." As the 5th and middle track, "it carries the spirit of the Jerika who wrote these songs, produced this album, and arranged the track list to make a sensible story out of the salad-esque variation in the sounds and themes of the songs," Jerika shares.

Then we move to the deliciously gut-wrenching single that further proved Jerika's songwriting genius—as if it needed any more proof. Carrying the utter sadness of Edith Piaf or Billie Holiday's torch songs, "Ihatod Tika" is a testimony of the first heartbreak, expressing desperate martyrdom for an unrequited love. "Andam Ko" laments the pain of abandonment and sways between being ready or not for it. Before it all spirals down into an endless pit of sadness, the album stops riding the emotional wave and takes a break with "Carbon Tragedy." It tells the story of Delia who cheats on her happy-go-lucky significant other Tonton with the well-off Rudy Tan because she is unsatisfied with her living conditions and wants more in life. This break represents how people escape from  their heartache to find fun distractions. After going through the attempt of easing the hurt, "Tapos Nang Tanan" accepts that it's over but still wonders if there is hope for the flame to be rekindled. Finally, "Adora" succumbs to complete acceptance of how that experience had made her a tad bit crazy. Fun fact: the last track is titled after Jerika's endearment for Berta, the famous street dweller who is now a volunteer in a recovery facility. Jerika would seek out Berta in Mango Avenue and spend time talking to him about anything and everything under the sun. It is this genuine interest in people and their stories that enrich Jerika's songwriting. Couple that with her ability to transform emotions into striking melodies and clever lyrics, and you have one prolific and rare gem of a songwriter in the form of a curly-haired Jerika.
The Why, How, and In-betweens of Layat!
With almost three years of making this album with co-producer Anjelo Calinawan, Jerika is on the edge of her seat to release Layat! "soon"—fingers and toes crossed. The album has compositions made in her yesteryears and songs intended for the debut release. 
The first of the latter, "Kadlawon," was written in late 2018. Expressing her light bulb moment, Jerika shares, "I realized my songwriting feels limited if I do not write as me." It was her breaking from her comfort zone and owning who she is. When she joined songwriting competitions like Vispop and Cebu Pop Music Festival, Jerika felt safe exploiting the neutral pronouns of the Cebuano language, using ikaw and siya to refer to a romantic subject. Inspired by writer George Saunders, Jerika expresses, "So I took responsibility for my art and for who I am (it helped that I was hungover and semi-uninhibited), and wrote my first song that used the word 'day (short for Inday) to refer to the object of my affection." From then on, Jerika was relentless in being herself: "The songs that followed became more and more personal that it felt like I was taking a leap of faith—writing these songs, naglaom nga sabton (hoping to be understood), naglaom nga panumbalingon (hoping to be heard)."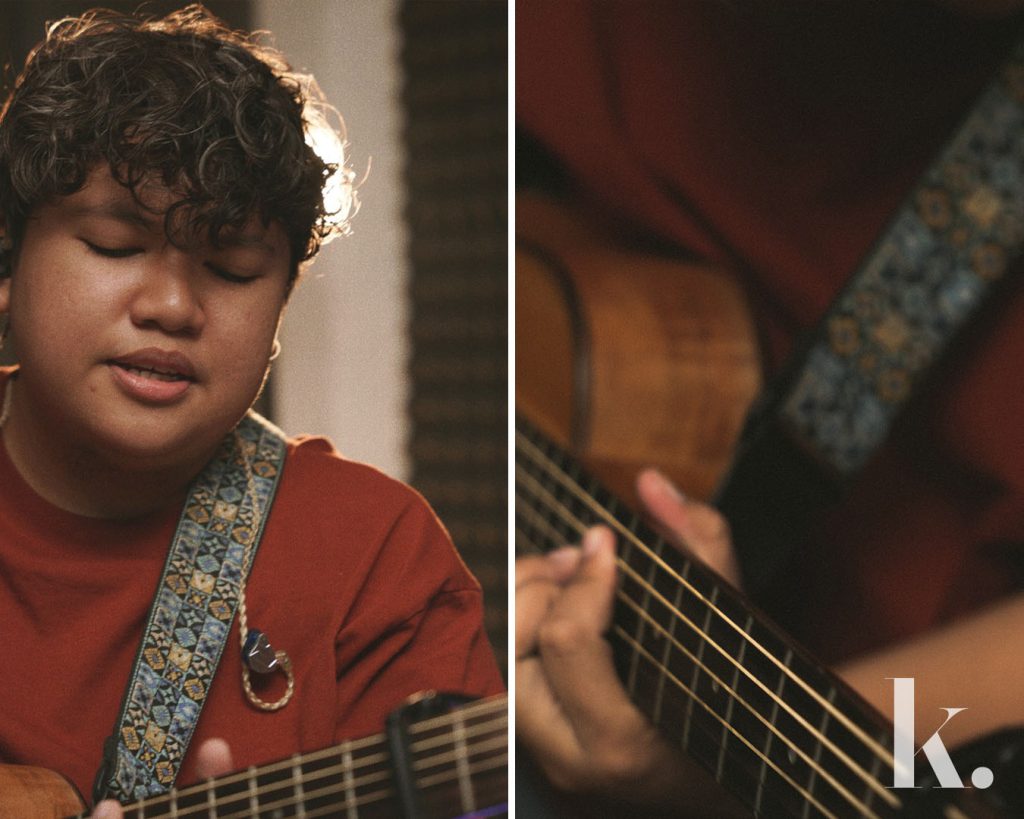 This leap of faith is an act of courage for Jerika who unapologetically shows her true colors in her first album, hence the necessary title, Layat! "Majority of these songs were written during a time when I decided to be braver—about my songwriting, in love," Jerika shares. She continues to say that these songs were written to flaunt the true Jerika in love and in pain: "Kining mga kantaha, nilayat ko paingon nimo: way sigurong mo sawo, way sigurong maminaw. Hasta akong paglaom nga imong dunggon, kini paglayat gihapon. (Catch me, I'm falling for you and I don't know what to do—Toni Gonzaga?)" Let's try that translation again: "I leap towards you with these songs without the certainty of being caught in your safety and being heard. Even my yearning for you to listen to me is a trust fall in itself."
If you're looking for artistic merit and entertainment value, Jerika Teodorico's Layat! is a precious collection of happy and sad songs that will make you laugh, cry, ruminate, and feel. Or, in other words, unhinged, which is totally fine because you still end up feeling at peace with yourself despite all the stupid things you did and the grim misery you survived. To jump and land with a few scratches and bruises, and not die, is all we could really hope for. To live without having jumped at all would be the real tragedy.
Photography Ezekiel Sullano