This Barbie Cares About The Environment
Beverly Catampo is an emerging artist from Daanbantayan who uses indigenous materials from her locality in the process of making art. Her first solo exhibition 'BAYBAYON' is a collection of works that is a culmination of her rural coastal upbringing and her years of art study.
Baybayon as a Benchmark for Creative Inspiration
"Coastal areas hold immense importance for small communities, providing essential resources for their survival, including food, water, medicine, livelihoods, and shoreline protection. Unfortunately, Catampo's own residence, dependent on fishing and agriculture, has experienced mismanagement and exploitation. The challenges faced by her community mirror the larger issues affecting the Philippine coast.
Through her vibrant depictions, Catampo sheds light on the "vulnerability of coastal areas to exploitation, driven by deepening economic struggles and poverty"–an excerpt from Beverly's artist statement.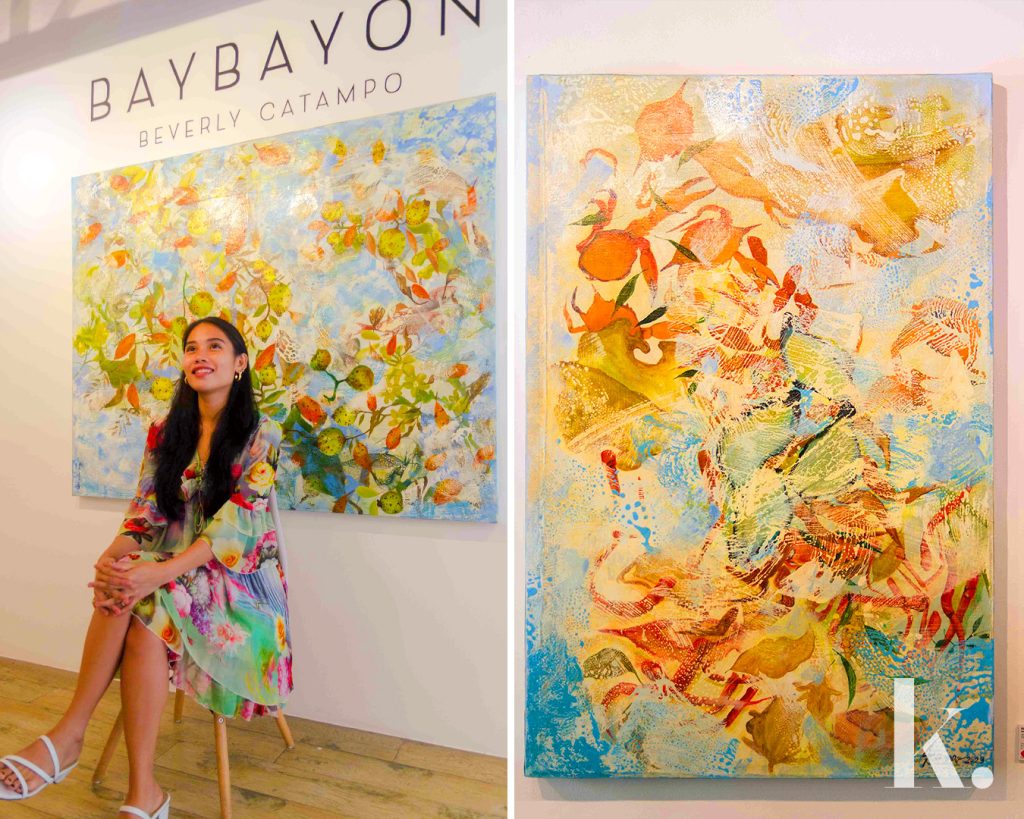 The charm of this exhibition lies not only in the vibrant depictions but also in its ability to open up conversations between the artworks and the audience. A key point that was raised in the series is that not all organic life forms are subject to the same routines, giving emphasis to diversity within the coastal ecosystem.
Diving deeper into that key point, the artist was kind enough to guide us through their differences and artistic process with her statement below:
"Life forms, like the subject matter that I used, are subjected to a specific or same routine. For example, manulo ka or 'panulo' (to hunt aquatic animals specifically at night when there is a wide tidal flat), the life forms or elements that are subjected to that routine are the same ones that I used in one painting entitled "Ang mga Bayanan sa Baybayon" which is kasag (crab). If manulo ka imong makuha kay kasag, pasayan, lambay… mao na sila.." –Beverly Catampo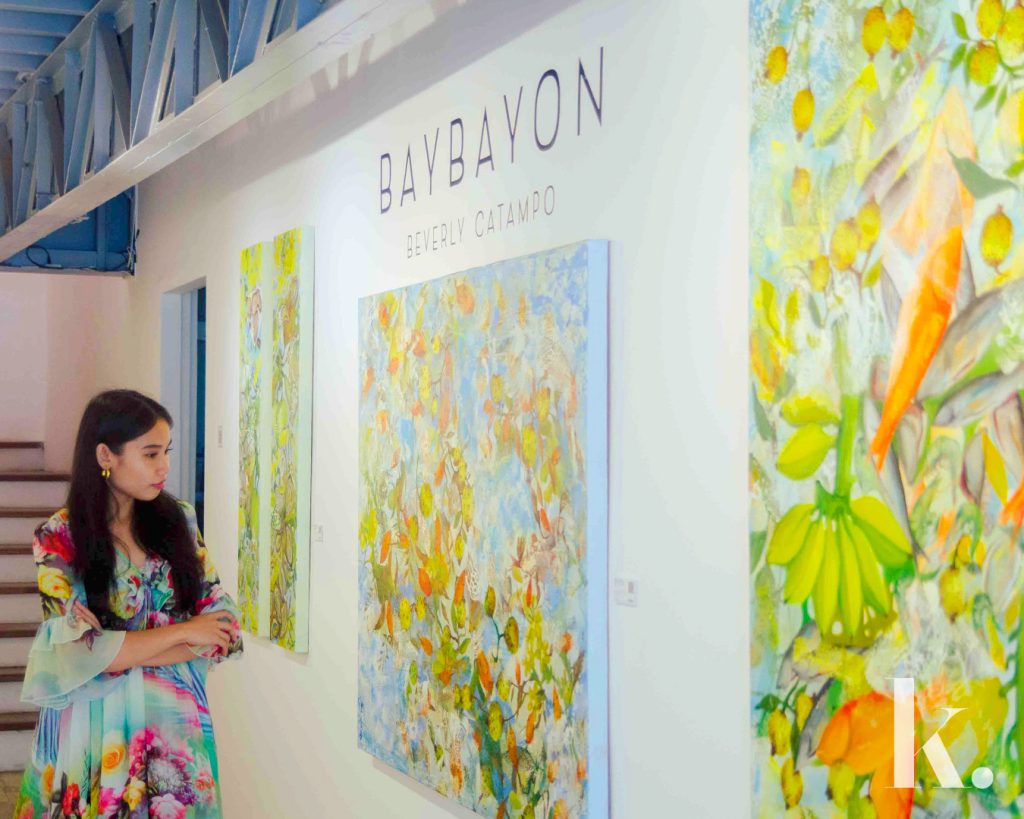 Beneath the Vibrant Layers of Baybayon
Basking under the vibrant depictions of crabs, shells and other elements lies an implication of underlying issues as observed by the artist. 
In the painting "Ang Mga Bayanan sa Baybayon", the environmental implication of overharvesting marine species is being brought to the surface. The elements serve as a reminder and a metaphor for the life cycle that the artist intended to establish as she pondered the presence of life observed on the provincial coast and how all life forms eventually become painfully empty skeletons after serving their purpose.
The routines mentioned in BAYBAYON encompass the act of providing and meeting the demand for nutritious food. Nonetheless, it also sheds light and tackles important factors that contribute to the issues experienced by the community such as poverty, scarcity of livelihood choices, availability of work, and also repetitive consumption of the life forms mentioned.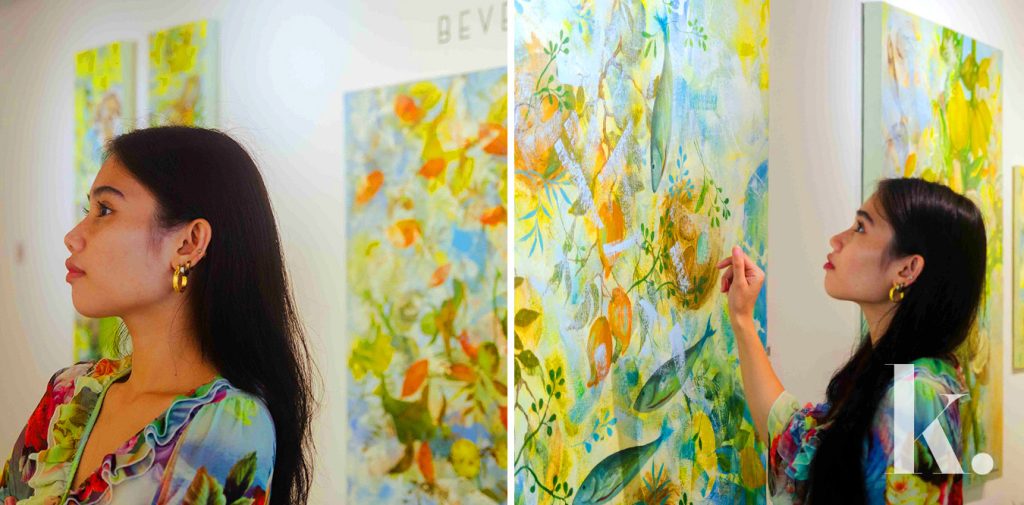 "If we really think about it, these [food] choices are healthy for us compared to the food that we have here in the city—most of which are imported and have Western influence. If we look back, as Cebuanos, the way that we like our food is through kilaw (soaked in vinegar), ihaw (grilled or pit-roasted), sugba (grilled), etc."
"Due to the repetitiveness of these routines—these types of harvesting—are unsustainable. The ending is met with complaints from the locals because the life forms become rare and in some instances, they cannot manage to harvest anything at all," Beverly shares.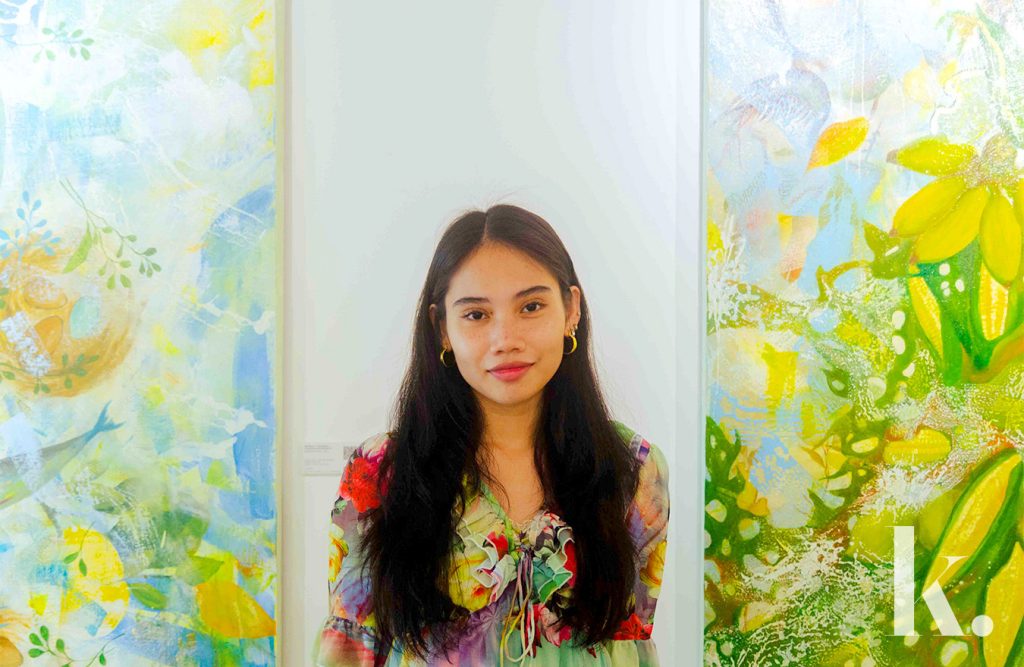 Indeed, the exhibit is an active reminder that there is a need to mitigate the overconsumption of different life forms and their subsequent effects not only on the environment but on the lives of the locals as well.
Beverly Catampo was awarded Best Thesis – Grand Winner for her solo thesis exhibition 'BAYBAYON' and is part of the Young Artist Series of Qube Gallery at Crossroads, along with METAMORPHOSING by Marie Nelle Valmoria who also had her solo exhibition last July 7, 2023. 
Currently on view and still part of the Qube Gallery's Young Artist Series is 'METAMORPHI' by Linya Fernandez. The exhibit runs from July 18-31, 2023.
Photography Kent Barcenas | Location Qube Gallery