Still thinking of where to spend the holiday? Look no further because NUSTAR might just be your next stop. You might want to add "Visit Independence Reimagined" to your list of patriotic activities for Philippine Independence Day.  
Independence Reimagined: A Special Exhibit by NUSTAR Casino & Resort x Qube Gallery
For the past few years, Qube Gallery has been hosting an annual exhibit featuring talented Bol-anon artists. The goal is to promote Bol-anon art and provide them with equal footing and recognition alongside other artists from other regions of the country.
When asked about the vision behind the curatorial process and the partnership with NUSTAR for this special exhibit, Miss Pia has this to say:
"Our intention was to present their art beyond the boundaries of a traditional gallery setting, aiming for an art fair-level presentation. Our goal was not simply to display it in a different location but to create a significant impact and relevance through our chosen theme, 'Independence Reimagined', as a tribute to Philippine Independence Day."
"NUSTAR is committed to supporting local artists and has collaborated with us to provide a platform for them to showcase their art and amplify their voices."
– Pia Mercado, Gallery Director of Qube Gallery
Liberation in the Lens of 12 Contemporary Bol-anon Artists
The appeal of this reimagination of liberation from the Bol-anon perspective lies in their ability to allow the audience to fill in the blanks. This can be observed in the thought-provoking titles of their works. Nam Intal's "Freedom Comes" for example, will leave you guessing if the full title is "Freedom Comes with a Price" or not. 
Although there are similar symbols and figures presented in the artworks, each of them has its own unique interpretation and understanding of what it means to be free. The messages being conveyed in the artworks are not solely reminders of our national symbols, but they also allow us to reflect on what liberation is in our current socio-political climate.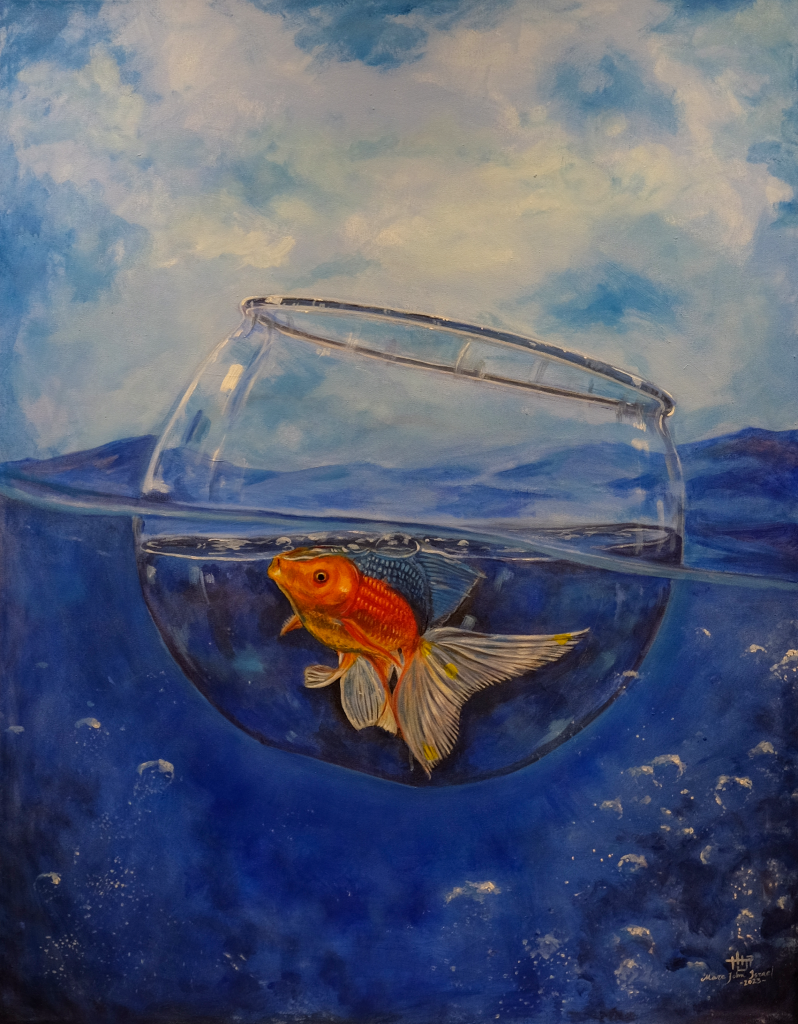 Thus, liberation here through the lens of the participating Bol-anon artists, is presented in a diverse range from figurative representations to abstract reflections. It is also worth noting that the charm of Bol-anon art not only lies in their incredible display of techniques but also in the careful placement of the figures in the artworks as far as composition is concerned.
Independence Reimagined: Interview with the Artists
A personal guide to some of Victoria's favorite picks from the exhibition (in no particular order)
Hoisting a flag on your car as you travel is cool, but what better way to practice patriotism this Independence Day than owning an artwork from your local artist? For sales inquiries, contact +63 918 807 4175.
NAM INTAL:
"Freedom is something that we want and feel that we have a right to express or possess. 
So freedoms are "earned" every single day. We get to say what we want, read what we want, and think what we want, all because we don't take advantage of these things and abuse them. Once we start abusing these freedoms, we stand a good chance of losing them.
That's why they're never free. Nothing is free. Everything comes with a cost. Speak what's on your mind and lose a friend. Was this "freedom" worth it?
And we need to not use the word 'price' as it equates something priceless with baser concepts like dollars and cents. We need to change the narrative. Freedom comes and is the right people give to each other with open arms—without asking for anything in exchange, except to respect and cherish them.
RIO CABAHUG:
"I want to artistically/playfully title my piece by changing some letters in the alphabet = "E" as "3", "1" as "I" and also to put my identity on the artwork. Thus, "UNT1L WH3N" is read "UNTIL WHEN".
The piece is about a series of questions on the different aspects of what and how freedom is. Questions like –
Until when are (we) going to enjoy this privilege? (about independence)
Until when are we going to be under the clutches of others?
Until when are we going to stay silent?
Until when are we going to be passive?
Until when are we going to be rampant of our freedom that we affect others?
Until when ta mag tago2? 
And the list goes on.."
STEVEN LUSPO:
"My initial idea was to create an artwork centered around our national flag, symbolizing our independence. However, as I delved deeper into the theme, I had a profound realization. I couldn't help but recall the numerous historical events we endured during years of colonization, which profoundly shaped our nation's journey toward freedom.
I started the creative process of deconstructing elements from our Philippine flag, breaking them down, and recomposing them with metaphorical significance. Among these elements, one of the main focal points is the portrayal of two figures in contrasting colors, striking unconventional poses that convey a deeper meaning. Now the poses are the most striking. It portrays the struggle of standing firm in our fight for independence. We experience ups and downs, but we always rise up again until we preserve the freedom that we always want. But note that freedom has no boundaries. Freedom is always expanding in different aspects of life, especially in the modern Philippines. 
To add more detail, the orientation of the color red was originally intended to be at the bottom. However, in my painting, I deliberately turned it upside down. It symbolizes that freedom is an ongoing battle and the preservation of freedom requires constant effort and struggle."
JUMJUM OUANO:
"The artwork is a narrative of how we Filipinos struggle to keep our freedom. It's a figurative interpretation of 'hitting two birds with one stone', which in the artwork it's hitting the bird which is a symbol of freedom, and a man which symbolizes the Filipinos, and with every blow on our freedom along with its effect it has on us as a nation. 
The fishes on the corners are a juxtapose from Rizal's quote: "Ang hindi marunong magmahal sa sariling wika ay higit pa sa malansang isda" and that fish slice into three symbolizes [the] Luzon, Visayas and Mindanao.
If the viewer will take a closer look at the artwork or view it in blue light, the main subject seems to be floating in limbo which is our current situation. Which in every aspect, our freedom, that has been currently challenged is a question of how we are defending (to keep) it."
JEFFREY SISICAN:
"The title is about how we know Rizal and our heroes through history books, just by memorizing about them, but we need to have a deeper understanding sa ila sacrifice. Hence, sa art nako. The title Turning Back—means we have to take [a] deeper understanding of our heroes' sacrifices and apply it for today and the future. From Being Vanished—means we must act, stand up, and believe that [through] small actions lead to a bigger action for a better future.
The upper portion, [we] have Rizal's image, still believing [for] our youth to understand their sacrifice and learning to be used in the future. The flag backdrop symbolizes—our country and people. Rizal's hands were still firm for the Filipino people to stand up. The lower portion is the present, fading understanding sa atua heroes. We are lost in the forest of lies, misconceptions, and unappreciation for the heroes, but by learning more and deeper understanding of our history, heroes, hope for us, our leaders to learn and be responsible for the future and the youth. 
Half portion white—means na the sacrifices of Rizal and our heroes are fading, we only see our heroes through names and image not the meaning of their sacrifice—which to shed blood and suffer for us, our country."
Qube Gallery has a multitude of captivating exhibitions lined up. To stay updated with the latest information, simply out their website at www.qubegallery.ph, and their social media account @qubegalleryph on Instagram. 
Photo courtesy Qube Gallery & NUSTAR Resort