The first time I came across Jewelle Yeung's work was "Words Unspoken" at the Art Fair Philippines when she was represented by Qube Gallery this year. Her work struck me as oceanic, melancholic, calling forth forms that were reminiscent of the natural world. What I found most interesting was they also had an otherworldly feel to them, not in an alien, outsider way. But in a reassuring sense, this is the magic of Yeung's art.
Jewelle Yeung started her design career in London after finishing her education at The University of London for Fashion and receiving her Masters's for The City and Guilds of London Art School for Fine Art. Her career involved stints with Hussein Chalayan and Puma International. But for Jewelle, painting, and art felt more like her calling, so she came back to her creative roots and devoted herself to art after working for 3 years in fashion.
"Fashion was always work for me," Yeung says. She says that when she worked in design you listen to a lot of people, as she kept getting commissioned during her formative years. In art, there is the internal voice, the intuitive impulse that consistently guides us.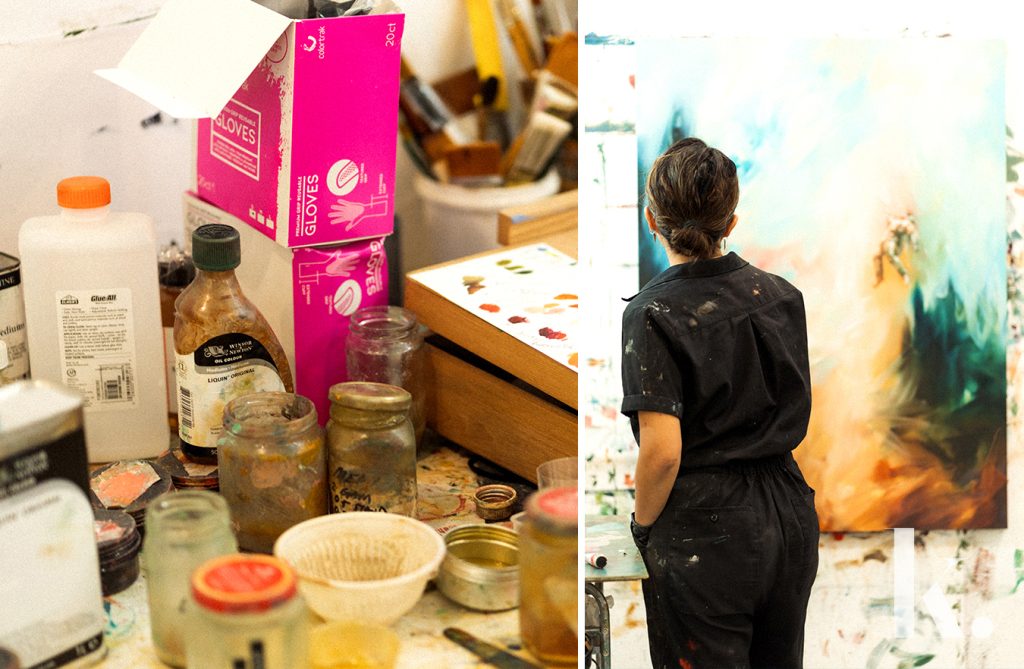 The great writer D.H Lawrence once said in regard to the creative impulse that the "secret to life is obedience". By that, he meant the obedience to the urge of life itself, "urging us to new gestures, new embraces, new emotions, new combinations, new creations."
"Deep in my heart, I'm an abstract painter."
Her work, which is highly reminiscent of a fusion between painters O'Keefe and Rothko, is heightened with emotion. I was very touched by her work even though I consider myself unimpressed with current "abstract" art.
I feel like there is an oversaturation with it in the contemporary art world, as one of its original main goals was to disrupt the current politics of how art was perceived at the time. But I also have to pinpoint that that movement was highly dominated by men, which were Pollock, De Kooning, Kandinsky, and many more.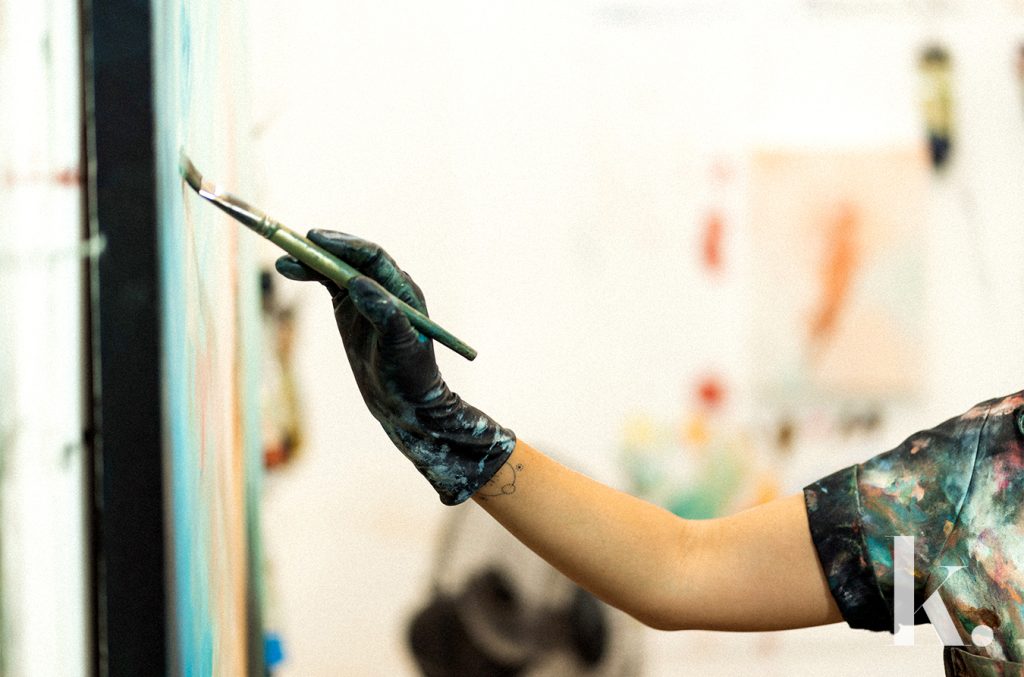 The only artist that I would resonate with was Mark Rothko, as I felt like he understood pure emotion and expressed it on the canvas. With O'Keefe, her life was fascinating— her way of living, her repertoire of work, I was even surprised that she had a history with photography. The way she carried herself and, of course, her fantastical paintings which are interesting and luminous observations of her environment.
I want people to understand that O'Keefe was not only the artist that painted flowers and skulls in her desert homes in New Mexico. For me, O'Keefe had it all. Yeung's art feels like an O'Keefe painting disintegrated into beautiful ambient noise. As I was going through her archive, I felt the emotions through the strong, through the subtle, through the chrome of her paintings.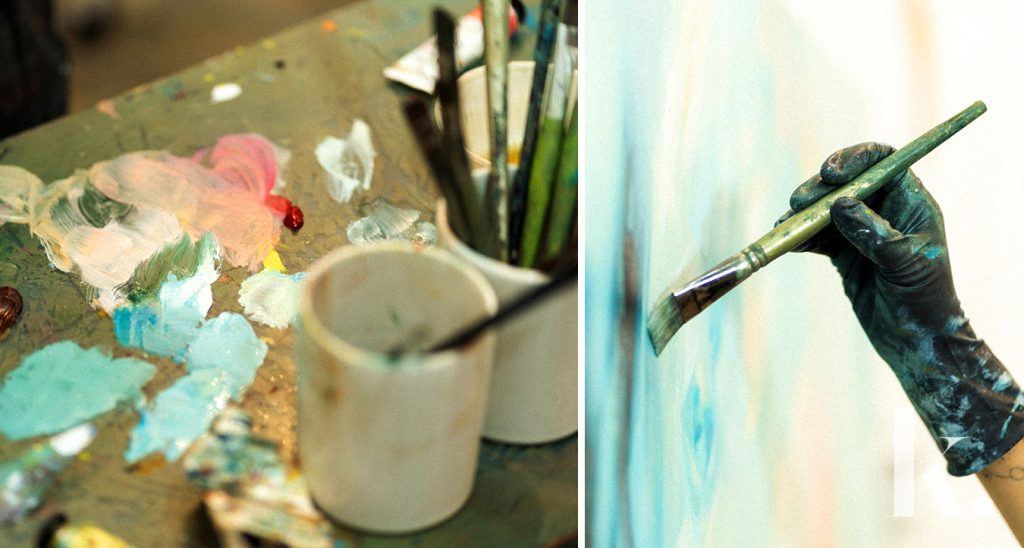 In the '90s, as an artist, especially as an established artist, it was highly unfashionable (forgive the pun) to work with fashion. Marina Abramovic even made a piece about how art influences fashion, called "The Contract" with Givenchy Designer Riccardo Tisci— with Tisci, the designer, sucking on the teat of Marina, the artist.
As a contemporary artist, I don't necessarily agree with pitting the two fields against each other. Jewelle Yeung's experience in both of these further demystifies these unspoken "rules" on what it is to be an artist, as her work goes beyond these boundaries. I believe art doesn't have any rules. As an artist, it's important to show people what is possible, and most significantly, what can go beyond the limitations that we impose upon each other.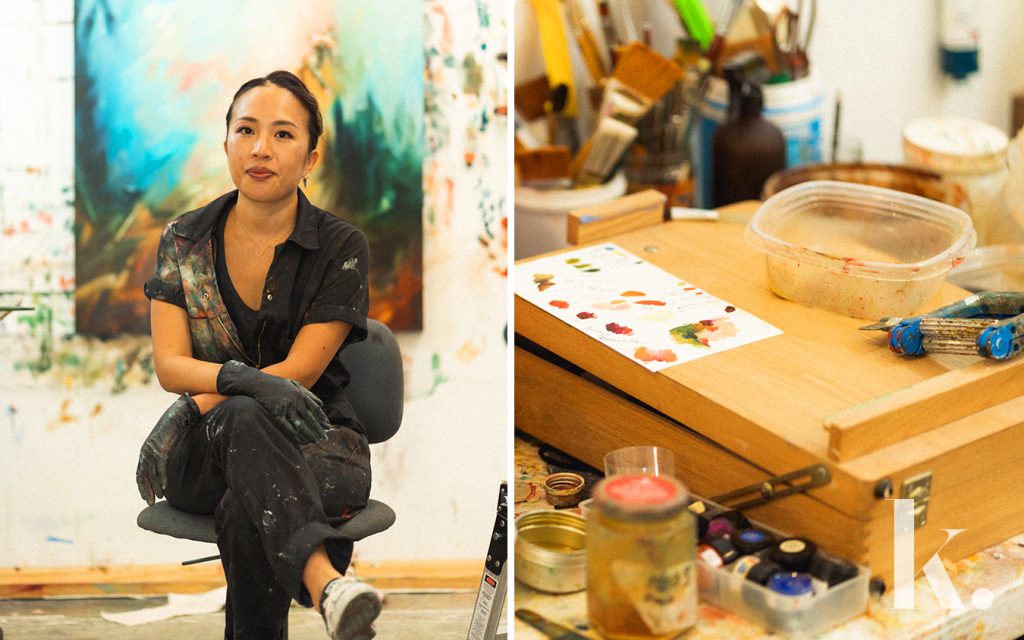 Jewelle's passion for painting has been reincarnated even further after she was tasked to do two big paintings for a client. Her paintings, which I would describe as subterranean crystal worlds, have a feeling of levitation and harmony. Her strokes are mobile, spontaneous, and meditative— with a musical quality to her works.
Electric and moving. Her merging of the formative and the abstract have a melodic quality, as birds, astronauts, flowers, and figurative motifs clash as one. Jewelle Yeung's practice with abstraction is nothing like I've ever seen before in Cebu, and I thoroughly enjoyed going through her archive. She strikes me as a very genuine artist through every color and stroke. 
Photography Ezekiel Sullano