Out-of-the-way may not be that accurate but that it is small and unpretentious brings In-Between Café & Bistro up to the dictionary definition of hole-in-the-wall. Self-professed "in-between" of In-Between, Jeremy Hong declares that this little cafe could be more than just a place for beverages and food. "We want to be where people have great conversations—a place where people take a break to find a sort of an oasis in the city," he says.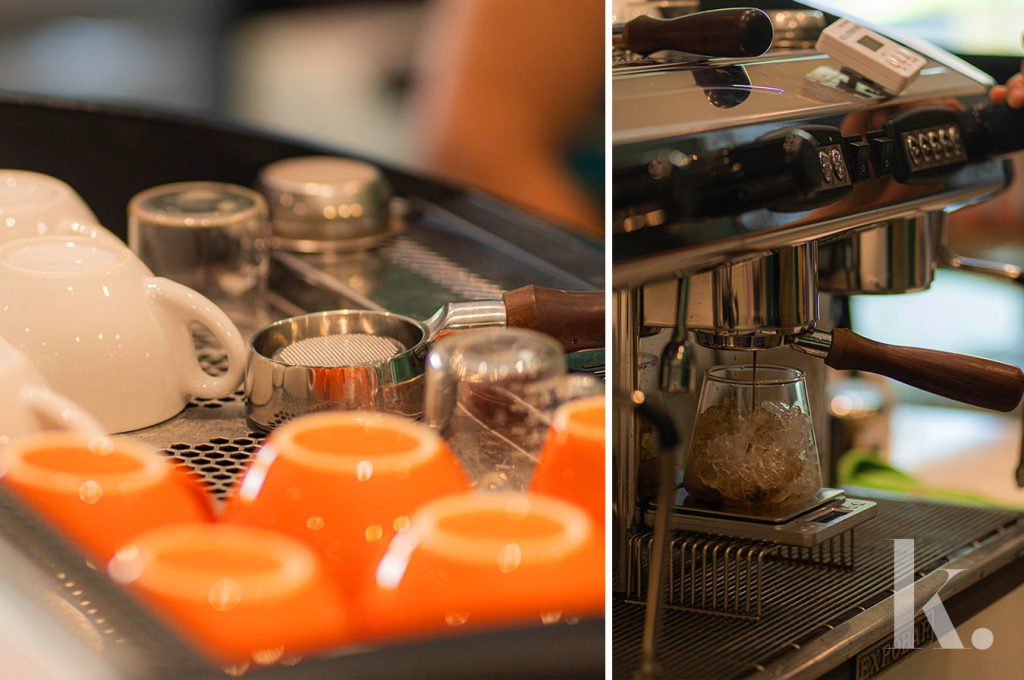 Tucked into the lobby corner of a, let's say time-honored, gym-spa institution, I'd imagine it to be a great spot for a post-workout meal or for refreshments after some time in the sauna. On the Sunday of our visit, it played brunch host to our handful and an informal ESL class to Korean toddlers.
Trails & Traces Coffee Roasters, based out of Quezon City, Philippines, provides the base for their classic coffees and their coffee concoctions. Notable is their Espresso Sunrisex—"espresso, liquid sunshine, and giggles," Hong jokes—which combines the pick-up of a cup of joe and the brightness of a breakfast OJ bridged by a "secret ingredient."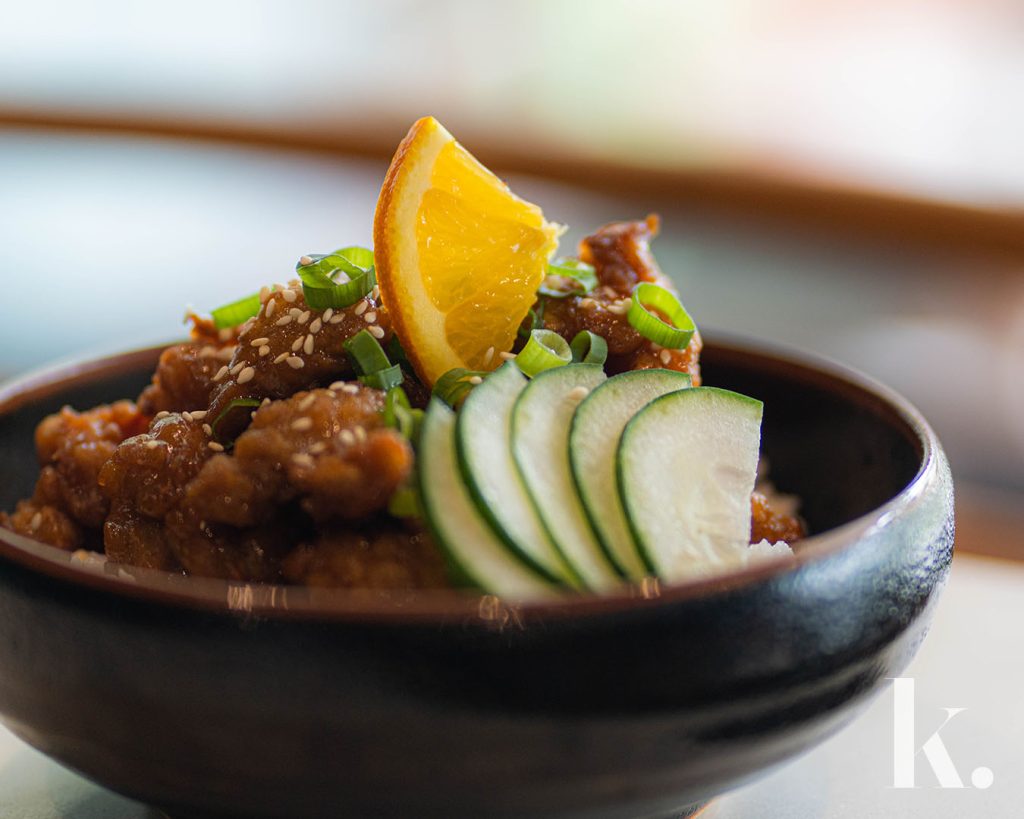 Their take on the classic Chinese-American Orange Chicken has crispy, golden bite-sized fried chicken pieces coated in the house orange sauce that comes in sweet with a hint of spice and a ton of flavor tempered by the bed of rice. On what seems to be the menu's lean towards the citrusy, the Mandarin Empress salad impresses with its fresh greens popping delightfully sharp sweetness from mandarins and a crunch from candied walnuts, all melded by their proprietary vinaigrette. Short orders go long in satisfaction with their baos: Duck Dynasty, a steamed bao halfmoon with exquisite smoked duck; and Hong Bao Bao, which consists of fork-tender slices of pork belly with sweet, anise-forward, sticky, sauce. Cheeze Mozza—mozzarella sticks with Marinara and Bechamel—sure draws in the talk.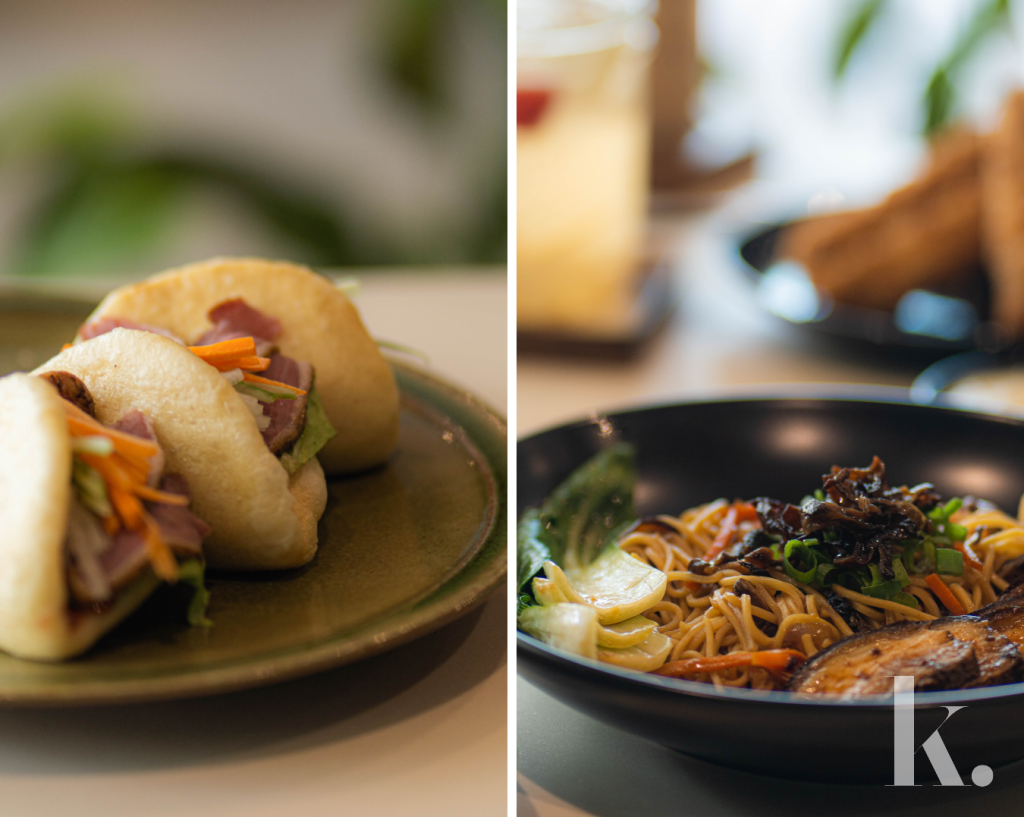 We had hearty chuckles at menu items like the turkey sandwich Pabo-rito and Double Hammy, a pork and chicken ham, double-cheese panini, as well as other items listed under Sandwiches that we definitely have to go back for. Pear, lemon, apple, and strawberries make The Carpenters proud with the drink, "Suddenly, A Pear." Mixed berries, bananas, and lemon pack an antioxidant and flavor punch in the Punch Berry, while the tropical taste of mango and bananas dance with the sweetness of strawberries in the Flamango.
Between the incredible lineup of menu items and puzzlement as to why it took us all this time to catch wind of this gem is our curiosity regarding its name. "The best things are those that come in between," Jeremy offers. Well, truly.
In-Between Cafe & Bistro is located inside Holiday Gym and Spa along Banilad, Cebu City. They are open Monday to Saturday from 7 AM to 9 PM, and up to 7 PM on Sundays. Follow them on Facebook and Instagram.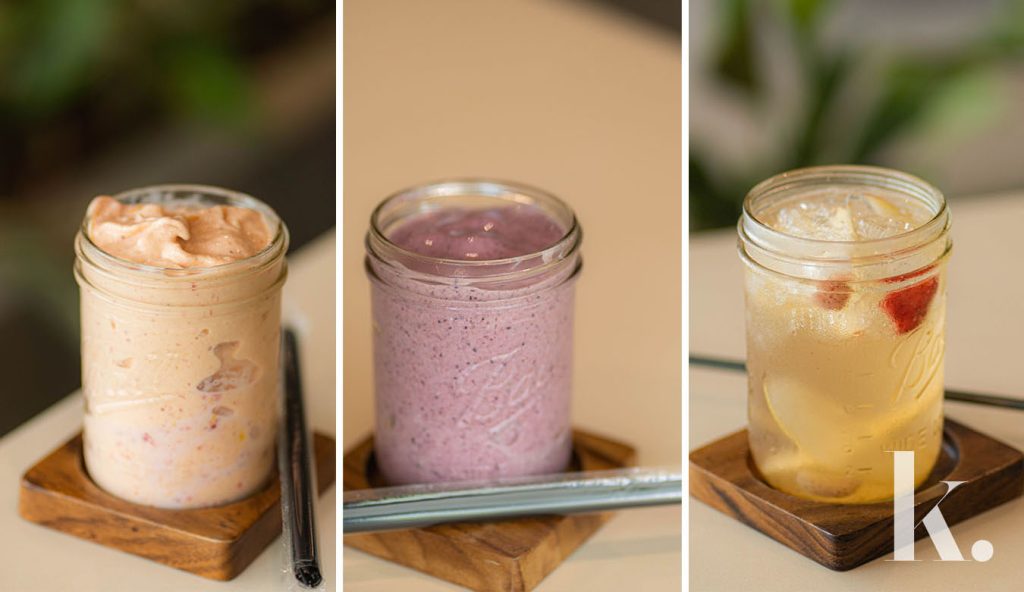 Photography Ezekiel Sullano