As with many cocktails, the origins of the Mimosa and how it became identified with brunch is of much debate. Perhaps one that holds well is the British Royal Family adopting it from a traditional French mixture and the Americans later popularizing it as one for "those who can't take rough stuff that early in the day." (—Shandy's)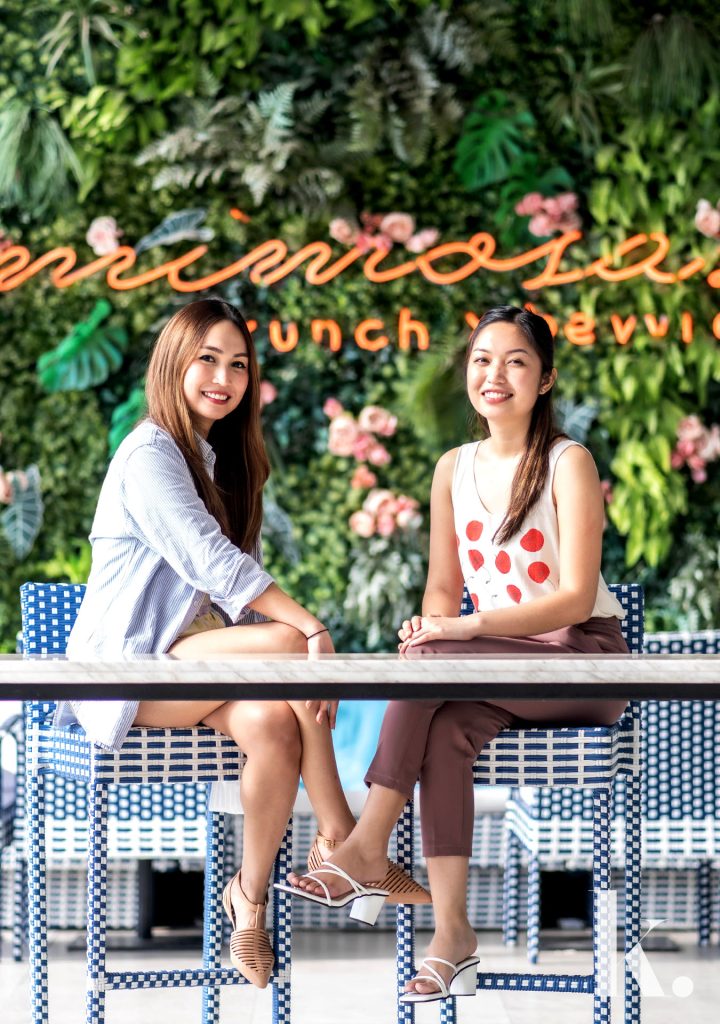 Far from roughing it, sisters, Nicole and Nivea Cambal picked up the brunch habit and what is now their go-to cocktail from their many travels abroad. "We like going out and exploring the city through its food," Nicole shares. The restaurant came to be as inspired by their travel experiences. "We love having mimosas and other 'bevvies' (slang. beverages) with brunch but couldn't find a place here that has both so we thought of making our own," Nivea declares. "We also want to normalize day drinking!" Nicole adds heartily.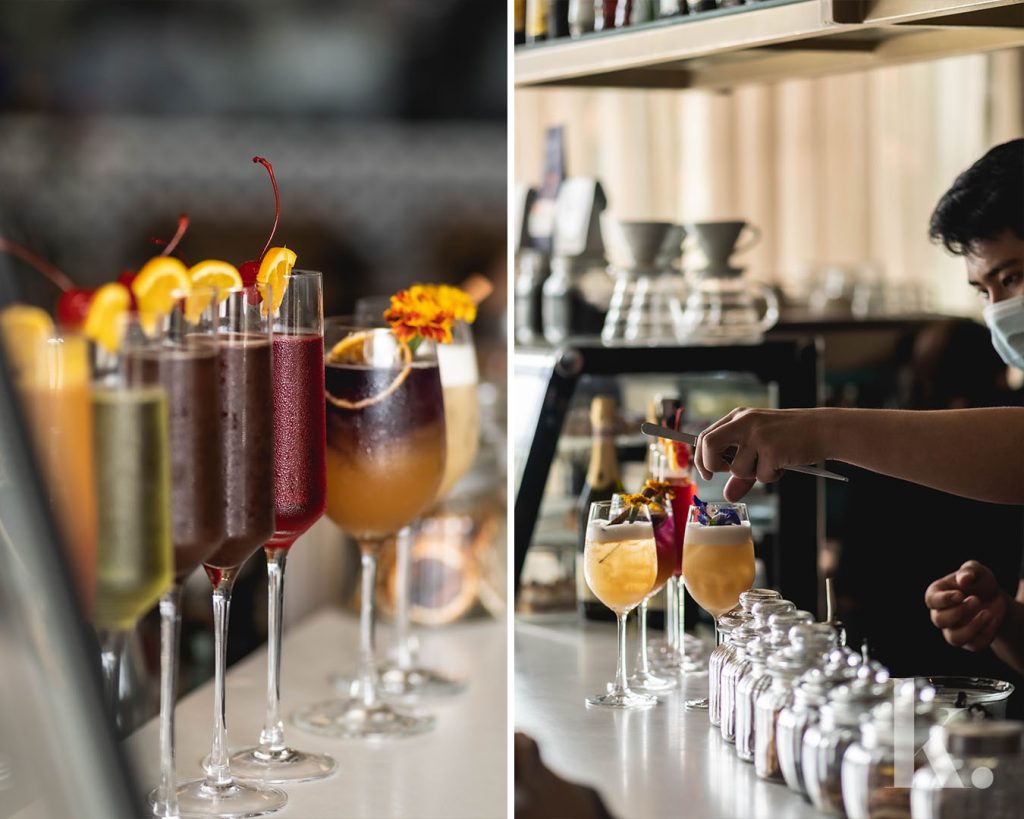 A deft balance of crisp, fizzy wine and sweet orange figures in the ultimately too-easy to enjoy and bestselling classic make of their titular Mimosas. Their permutations like their tropical Pink Guava, piquant Raspberry, sweet Strawberry, and tart Green Apple Mimosas have quite the fans, too. They also feature bespoke cocktails by their head bartender and general manager, Joseph Angelo Paroco. Of note is their line of tea-infused alcohols, quickly catching on to that trend. Whiffs of bergamot tease both the nose and palate in an Earl Grey tea-infused vodka, the citrusy note bolstered by fresh orange, sweetened with honey, and the florals from a butterfly pea tisane brightened by lemon in their Early Bright Hound. An earthy-spicy chai tea infusion grounds the evergreen freshness of gin and the tropical hint of lime as sweet-spicy cardamom bitters push the exquisitely exotic flavor in the — and quite possibly giving one a — First Blush.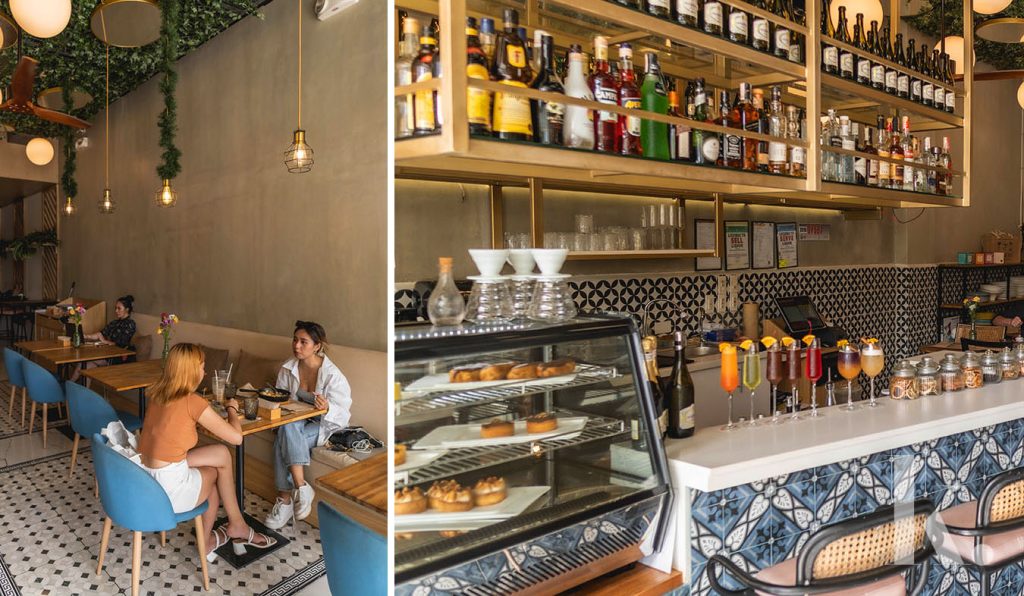 From the green wall with the neon signage to patterned tiles and muted color palette to polished wood and gold accents, Mimosas is the Cambal sister's twin dream and, admittedly, their Pinterest board come to life. With a "brunch and breakfast vibe," as they would describe it, the Instagramable setup sets the stage for the equally Instagrammable food items. Pretty is pretty palatable too with a menu built by some of the best chefs and culinary consultants in Cebu.
A veritable garden on a plate has capsicum, onion, garlic, tomato, cilantro, chili powder, and thyme waking up to a runny egg in an herb-forward and healthy Shakshuka. They can serve you a stack of flapjacks in a variety of toppings but the baked version in their fluffy Dutch Baby Pancake, topped with assorted fresh fruits, dusted with sugar, and drizzled with syrup detours from your usual.

Their all-day options feature bestsellers with the Cebuano all-time favorite, pork. Their Crispy Pork Belly comes in equal parts scrumptious crunch and meaty mouthfuls drowned in a spiced coconut cream sauce that they should seriously consider bottling.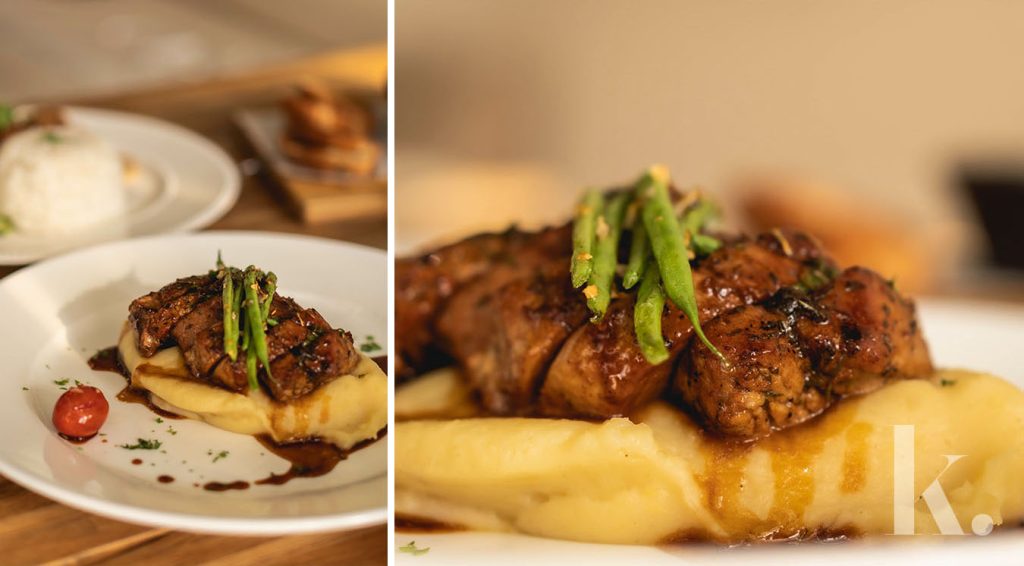 Another crowd-favorite is the Honey Glazed Pork Loin with its fork-tender meat and porcine flavor reinforced by the warm sweetness of honey. Salmon, squid, and shrimp combine for a briny and rich yet fresh flavor in the deceptively simple but incredibly delicious Mixed Seafood Pasta.
Freshly added to the already quite extensive menu is a new line of pastries which include Mango Cheesecake, Chocolate Eclair, S'mores Tart, and Chocolate-Walnut Tarts.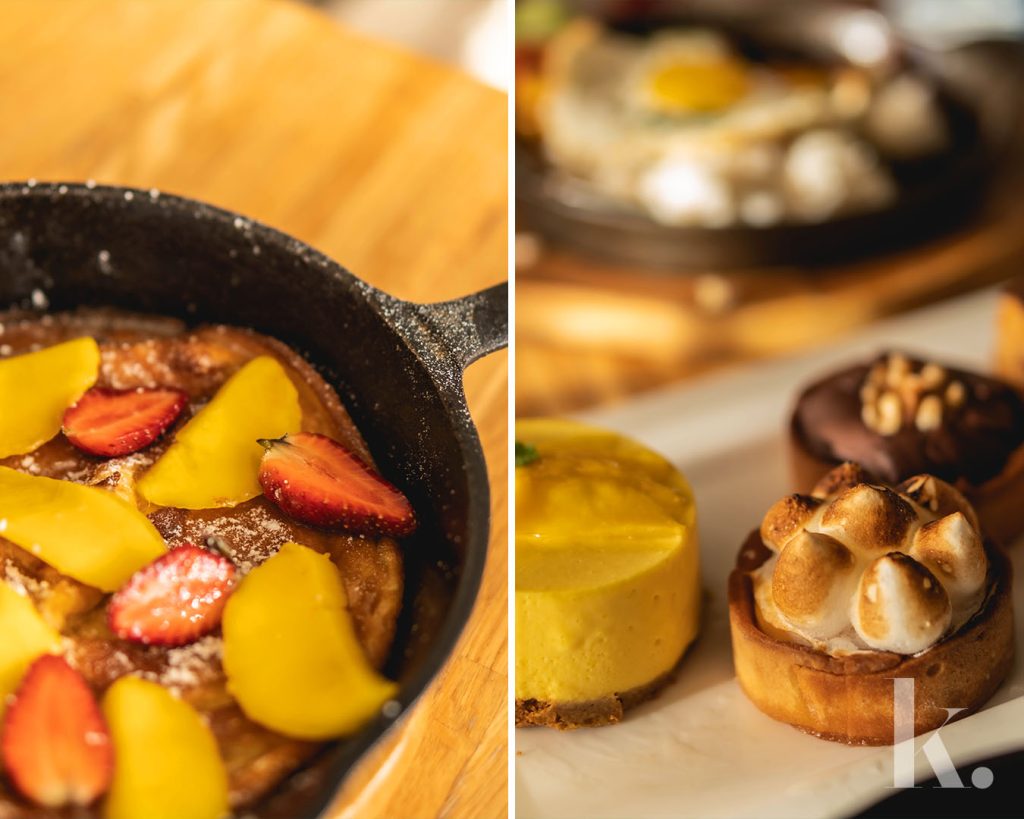 The perfect spot for the "dolce far niente" reels trend, you'd find yourself coming time and again to Mimosas Brunch and Bevvies for the sweetness of doing nothing…nothing but all-day brunch and all-day drinking.
Mimosas Brunch and Bevvies is open from 10 AM-10 PM, daily, on the ground floor of the Oakridge OITC 1, Oakridge Business Park, A.S. Fortuna, Cebu City.
Photography Ezekiel Sullano